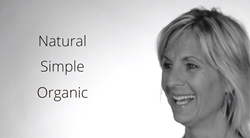 We understand that women need to know their breasts and when they understand that it can be a luxurious experience, it will raise their confidence to perform them
SARASOTA, Fla. (PRWEB) November 07, 2014
The Circuelle Foundation releases Beautiful Awareness, a testimonial to help change the way women view breast health and to educate women that breast self-exams are a healthy ritual. The campaign features a heartfelt testimonial experience from a woman's viewpoint.
About 40 percent of diagnosed breast cancers are detected early by women who feel a lump on their breast. This is why viewing breast self-exams as a way to empower women to know their breasts, for overall health awareness, is so important. The Circuelle Foundation, a Sarasota based non-profit organization, is educating women to make breast self-exams a healthy ritual.
"We understand that women need to know their breasts and when they understand that it can be a luxurious experience, it will raise their confidence to perform them," said Melissa Kirkpatrick, founder of Circuelle Foundation.
The Beautiful Awareness testimonial features LeeAnne, a 40+ woman who shares her personal encounter with confidence and ease. Her message is warm and authentic which speaks to women so they understand it is natural and simple: "I wasn't afraid anymore, I knew my body…I became connected with it again..."
To view the video, visit https://www.youtube.com/watch?v=rZOJzMy60mc
About The Circuelle™ Foundation: The Circuelle™ Foundation was started to support vital Breast Health Awareness initiatives. Because it's never too early to be knowledgeable about breast health, the Circuelle™ Foundation is organizing and funding breast self-exam programs in a number of schools and through social media. In addition, the Circuelle™ Foundation is also helping fund mammograms at select hospitals and radiology centers, making this essential screening available for free to women with limited financial resources. http://www.circuellefoundation.org.