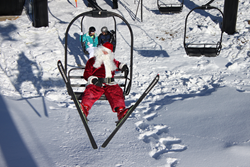 Grand County Colorado is a quiet wonderland of indoor and outdoor holiday events from horse-drawn carriage rides to s'mores by the fire.
(PRWEB) November 11, 2014
Granby, Colo. – Grand County, Colo., offers the perfect holiday getaway to visitors looking for seasonal festivities. Just 60 miles from Denver, Grand County is a quiet wonderland of indoor and outdoor holiday events from horse-drawn carriage rides to s'mores by the fire. With regular winter fun on hand – including cross-country skiing and snowshoeing, dog sled rides, snowmobiling and more – there are plenty of activities and events to fill a day, a weekend or multiple visits!
Granby Tree Lighting and Grand County Holiday Mixer (Nov. 20) – Enjoy a special tree lighting ceremony with carolers, cocoa and cookies. Event will begin at 5:00 p.m. in front of Granby Dental.
Thanksgiving at the Ranch (Nov. 27) – Devil's Thumb Ranch invites guests to give thanks and share a meal. The ranch will host a Grand Buffet in their hexagonal-shaped dining room, Heck's. $49/person; 11:30-9 p.m. A plated dinner will also be served in the Ranch House Restaurant. $59/person; 3-8 p.m. Reservations are recommended for both dining options; 970-726-5633.
Grand Lake Tree Lighting Celebrations (Nov. 27) – Help celebrate the season by bringing an ornament to decorate the Grand Lake tree. Starting at 5:00pm with carols and hot chocolate.
Village Tree Lighting Ceremony (Nov. 29) Winter Park Resort lights up Grand County with the feeling of Christmas at the annual tree lighting ceremony, 3:30-5:30 p.m. The event starts early with a visit from Santa and his elves plus activities for the kiddos and carols.
Olde-Fashioned Holiday Craft Bazaar (Nov. 28-29) – Visitors can browse through an assortment of handmade items for new holiday gifts and décor at the Grand Lake Arts Center's Olde-Fashioned Holiday Craft Bazaar. This free event runs Friday and Saturday from 10 a.m. to 5 p.m. – lunch available.
Grand Chorale Christmas Concert (Dec. 6) – The singers of the Grand Chorale will spread holiday cheer through song at the Grand Lake Community House. Come join in the tradition, 7-9 p.m.
Santa Carriage Rides (Dec. 6, 13, 20, 21, 22, 23) – Who better to dash through the snow with than the man himself? Santa offers free rides in his holiday carriage around Cooper Creek Square, 3-6 p.m.
Santa Visits The Village (Dec. 6, 13, 20, 21, 24) – Winter Park Resort hosts Santa Claus at their festive holiday village. Shop and dine – even schedule a massage – before or after your visit with Saint Nick.
Holiday Family Night (Dec. 12) – The Rocky Mountain Repertory Theatre will host a special holiday event, 6-8 p.m., of family-style drama sure to include song and dance. This is a free event!
Holiday Beer Pairing Dinner (Dec. 12) – Devil's Thumb Ranch presents a beer and food celebration in its hexagonal-shaped dining room, Heck's, from 6-9 p.m. Chef Evan will expertly pair a three course meal to feature and highlight three beers. Cost is $39/person; call 970-726-7013 for reservations.
Holiday Gift Market (Dec. 13) – Do some festive shopping Heck's Loft at Devil's Thumb Ranch, 10 a.m.-6 p.m., for one-of-a-kind gifts from jewelry to ski gear. Call 970-726-1054 for more info.
S'mores in The Village (Dec. 17) – Grab family and friends for delicious s'mores creating in The Village at Winter Park Resort. This is a free event!
Home for the Holidays (Dec. 19-21) – Join the Rocky Mountain Repertory Theatre alums as they present a festive holiday tribute and Grand Lake's favorite holiday tradition. Friday night is a free family night including a holiday movie and a visit from Santa!
Saturday S'mores (Dec. 20, 27) – Get more s'mores at Granby Ranch!
Christmas Eve Torchlight Parade (Dec. 24) – Winter Park Resort hosts a free one-of-a-kind Christmas Eve event. Festivities kick off with Santa visits, 1-4p.m, followed by caroling around the bonfire. Then, Santa and his helpers follow a spectacular procession of torch-bearing skiers and riders down the mountain, and the show is topped off with a holiday fireworks display. Spectators are invited to stay for Christmas Eve dinner at The Lodge at Sunspot as well as interdenominational Christmas Eve services.
Winter Wonderland (Dec. 24-Jan. 4) – Granby Ranch presents a winter wonderland with music, old-fashioned wagon rides, holiday parties and more from Christmas Eve through Jan. 4. Catch Santa Claus on the day before Christmas, 12:45-2:45p.m., as he takes a break from the slopes. Stick around for the Christmas Eve Service, 5-6p.m., including music and a service led by Pastor Patrick Lockhart. Come back in the morning for Christmas Day brunch at Granby Ranch Grill; call 970-887-5200 for reservations.
Christmas Dinner (Dec. 25) Sit back and enjoy a chef-prepared Christmas dinner at the Ranch House Restaurant at Devil's Thumb Ranch, 4-9p.m. Cost is $59/person; Call 970-726-5633 for reservations.
Historical Holiday Celebration (Dec. 26) – The Kauffman House Museum invites visitor to attend their Historical Holiday celebration, 6-9p.m. Fabulous food, adult beverages and old-time music are included in the ticket price. Reserve tickets ahead of time for $20, or purchase at the door for $25; 970-627-9644. All proceeds benefit the Cottage Camp.
Night Skiing (Dec. 26-30) – There's nothing like swooping down slopes under the night sky at Granby Ranch. Purchase tickets after 4 pm and ski 5-8p.m. Tickets are $14 all ages and complimentary for season pass holders.
Horse-Drawn Carriage Rides (Dec. 26-30) – The free carriage rides continue at Cooper Creek Square and Granby Ranch. 3-6p.m.!
Melodrama Evenings (Dec. 26-31) – The Grand Lake Community House beckons all to join in the laughter and fun of this annual tradition with a twist to commemorate the 100th anniversary of Rocky Mountain National Park!
New Year's Eve Fireworks over Grand Lake (Dec. 31) – Midnight fireworks over Grand Lake are a fantastic way to ring in the new year in Grand County!
For more information about Grand County's winter activities and special holiday events, visit http://www.visitgrandcounty.com and http://www.facebook.com/grandcountycolorado. Follow @grandcountyco on Twitter and http://www.pinterest.com/grandcountyco on Pinterest.
About Grand County, Colo. (http://www.visitgrandcounty.com)
Located 67 miles west of Denver, Grand County is home to wide-open spaces, breathtaking mountain scenery and authentic old-west towns. Outdoor recreational activities include golf, boating, fishing, biking, hiking, fishing, hunting, horseback riding, skiing, cross country skiing, snowmobiling, ice fishing, sleigh rides and tubing. The area features more than 600 miles of mapped and marked trails, one national park, two national forests, two wilderness areas, two national scenic byways, two major ski resorts, five world-class dude ranches and four mountain golf courses. Grand County's extensive water network includes Colorado's largest natural lake, 1,000 miles of streams, 1,000 acres of high-mountain lakes and 11,000 acres of reservoirs.