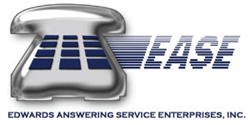 We are thrilled to offer our business services to the entire medical industry.
Dallas, TX (PRWEB) November 07, 2014
Answering the phone may be considered one of the most essential parts to any business. If the phone isn't being answered effectively and efficiently, dollars most likely are being lost. Fortunately business owners have many options and resources at their fingertips. One of those valuable assets is Edwards Answering Service. This unique organization announces they will be offering services to the medical field. The company will now service the following businesses; doctors' offices, physical therapy locations, holistic centers, geriatric facilities, hospitals and general medicine locals.
Clients can have confidence with the secure texting technology offered. There are many regulations to adhere to, so it's very important for companies to comply. Sometimes it can be more cost effective to outsource the front end of a company, instead of risking that important call going to the voice messaging system. A live operator can help with increased conversion rates. Time is of the essence in business, especially in the field of medicine.
The company offers a wide range of services that can help a business be more effective. Anything from database management, appointment, reservation setting, email, order entry, paging, patching, voice mail and online web portals. The law of diminishing returns can present itself at different points for all businesses, but sometimes it may be less expensive to hire a professional company such as Edwards during peak or off peak hours instead of hiring and training new help.
The call center employees can be specifically trained to represent any industry and business. Customizable scripts answered by friendly voices may make a difference to a company's bottom line. Knowing who is representing the front end of your company is incredibly vital. Fortunately EASE has been in business for 60 years. This longevity is a true testament to the superlative customer service offered.
Staying in business that long truly requires doing several things right. With products that are geared toward helping other businesses succeed, their caring staff will invest the time it takes to get to know your company. This exceptional organization knows a thing or two about keeping customers happy, the utter importance of live phone transfers and how they can have an impact on net profit. Net profit goes back to keeping the doors open, which is directly connected to conversion rates; when a prospective client dials your company's phone number for the first time.
Furthermore, the entire commercial call center staff is committed to working with business owners and managers to figure out the best ways to effectively serve their organization. They will create a plan of action that aligns with company objectives and protocol. It is important to note, the company services businesses nationally from California, Dallas, Denver, and Miami to New York state. Readers are encouraged to visit http://www.edwardsansweringservice.com for more detailed information on the services provided.
Ron Wendus
1-800-606-3273
www(dot)edwardsansweringservice(dot)com