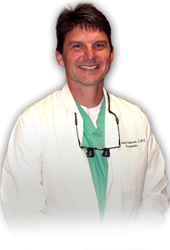 Oxford, MS (PRWEB) November 06, 2014
Those with missing teeth in Oxford, MS can now receive treatment from Dr. J. Michael Robertson, a skilled periodontist in the area, as he is currently accepting new patients. Patients from Oxford are now able to benefit from Dr. Robertson's extensive experience in placing dental implants. Implants have been used for decades with high success rates and have long been among the most highly preferred tooth-replacement treatment options. With good oral hygiene habits, patients can keep their implants for decades and not have to worry about replacing them after only a few short years.
Dental implants are made of three sections that come together to create the tooth replacement. The root of the structure is made of surgical quality titanium. This is a special metal that the body binds to in a process known as osseointegration. After the titanium implant is placed, an abutment is used to connect the implant to the crown. The crown is made to look and function like a regular tooth.
Patients with multiple missing teeth in Oxford, MS can have success with other traditional tooth replacement options, but they commonly cause complications. Conventional appliances are not as comfortable, reliable or built to last like implants. Dentures sit on top of the gums, so they are susceptible to slipping and clicking during use, which can be embarrassing for those wearing them. In contrast, dental implants are fixed in place, and patients do not have to worry if their implants will be able to handle the foods they want to eat.
Dentures and bridges can contribute to bone loss in the jaw. When a tooth become lost, there is no longer a root there to interact with the jaw bone, so bone loss occurs. Dental implants keep bone loss from progressing by stimulating the jaw just like regular teeth. Patients in Oxford, MS who are suffering from missing teeth can turn to Dr. Robertson to have their smiles restored. Those who would like to learn more can visit his website for more information or call for a consultation.
About the Doctor
Dr. J. Michael Robertson is a periodontist offering personalized dental care for patients in Tupelo, MS. Dr. Robertson received his B.A. from the University of Mississippi as a chancellor and Dean's List scholar, and his D.M.D. from the University of Mississippi School of Dentistry. He earned his certificate in periodontics from the University of Alabama. Dr. Robertson is part of one percent of dental professionals providing the LANAP® FDA cleared laser procedure for gum disease and periodontal treatment. To learn more about Dr. Robertson and his dental services visit his website at http://www.northmsperio.com and call (662) 269-1317.