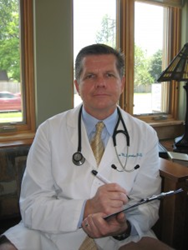 Naperville, IL (PRWEB) November 06, 2014
Dr. Kaz Zymantas specializes in placing dental implants for his patients in Naperville, IL as a lasting solution to the problem of missing teeth. An estimated three out of four Americans over the age of forty currently lives with one or more lost teeth. For those who have lost all of the top or bottom teeth, removable dentures are often the most common solution. But the truth is that temporary solutions to missing teeth often result in long term damage to the gums and bone that supports the teeth.
Those who have lived with a removable dental appliance know the challenges that come with that temporary solution, including:

Slipping while eating or talking
Clicking when not fully secure
Reliance on messy glues and pastes to hold them in place
Limited diet of soft and easy-to-chew foods
Potential ongoing damage to gum tissue
Weakening of bone structure in the absence of normal stimulation
While the denture may provide the wearer with replacement of the teeth that are missing, the truth is that dentures often do harm over the long run. The body reabsorbs the jawbone if it is not being used to anchor the roots of the teeth, from which it normally receives healthy stimulation. The result is a sunken appearance to the face that ages the look of the patient. The pressure of the denture on the gums can cause further damage to the gum tissue.
With the dental implants now available in Naperville, IL, ill-fitting dentures can be a thing of the past. Using titanium posts that naturally bond with the bone over time, the implants can provide a permanent solution with regular dental care and a healthy oral hygiene regimen. The teeth that Dr. Zymantas provides are attached to the implants and look and feel much like natural teeth. Even better, the implants provide stimulation to the bone much like real roots do.
Learn more about the advanced options in dental implants that are now available in Naperville, IL. Patients who have been living with loose dentures and are looking for a more natural and functional solution are encouraged to visit Dr. Zymantas on the web at http://www.lanapnaperville.com.
About the Doctor
Dr. Kaz Zymantas is a general dentist offering personalized dental care for patients in Naperville, IL for over 30 years. Dr. Zymantas received his Doctor of Dental Surgery from the University of Illinois and has earned a fellowship in the American Academy of General Dentistry, an honor belonging to only three percent of dentists in the world. Dr. Zymantas is part of one percent of dental professionals providing the LANAP® protocol, an FDA cleared laser procedure for gum disease and periodontal treatment. To learn more about Dr. Zymantas and his dental services visit his website at http://www.lanapnaperville.com.