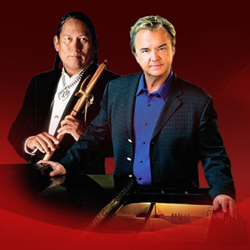 RITUAL is a thing of beauty, flowing from one track to the other . . . there is something deeper going on here, a melding of intelligence with heart, a musical hybrid that speaks to both the listener's mind and the listener's soul.
Encinitas, Los Angeles, Santa Barbara, California (PRWEB) November 08, 2014
After recording several successful solo projects, R. Carlos Nakai and Peter Kater began collaborating together in 1989 with their first recordings, Natives and Migration. Several million CD sales and 19 Grammy Award nominations later, they're back on the road again performing their unique hybrid style of innovative contemporary instrumental music.
Of Navajo-Ute heritage, R. Carlos Nakai is the world's premier performer of the Native American flute. He began his musical studies on the trumpet, but a car accident ruined his embouchure. His musical interests took a turn when he was given a traditional cedar flute as a gift and was challenged to master it. Nakai's first album, Changes, was released by Canyon Records in 1983, and since then he has released over thirty-five albums with Canyon, plus additional albums and guest appearances on other labels with total sales of over 4 million CDs.
Nakai brought the flute into the concert hall, performing with over fifteen symphony and chamber orchestras. And, in a cross-cultural foray, Nakai performed extensively with the Wind Travelin' Band, a traditional Japanese ensemble from Kyoto, which resulted in the Island of Bows album. Additional recordings with ethnic artists include In A Distant Place with Tibetan flutist and chanter Nawang Khechog, and Our Beloved Land with famed Hawaiian slack key guitarist and singer Keola Beamer. Recently, Nakai released Voyagers with Philadelphia Orchestra cellist Udi Bar-David, which blends Native American melodies with Jewish and Arabic songs.
Nakai has received 10 Grammy Award nominations throughout his career and two gold records (500,000 units sold) for Canyon Trilogy and Earth Spirit, which are the first (and only) Native American recordings to earn this recognition.
Nine-time Grammy Award nominee, Peter Kater, is a multi-platinum selling pianist composer who has released over 50 recordings and soundtracks since his first album, Spirit, came out in 1983. He's scored over 100 TV and Film productions, including 11 On- and Off-Broadway dramatic plays, and is a proud recipient of the Environment Leadership Award from the United Nations.
Kater has performed all over the world, including at Carnegie Hall and the United Nations. He's scored music for the Olympics, major sporting events, world summits, and has performed for many presidents, luminaries and celebrities. Kater has also collaborated with some of today's leading and most talented musicians, actors and directors.
After studying classical piano from the age of seven years old and then moving into contemporary improvisation in his teens, the German-born pianist moved from New Jersey to Colorado and started playing improvisationally in clubs throughout the Boulder/Denver area. He quickly became known as a leading innovator of contemporary instrumental music and for the quality, beauty and emotional depth of his work.
Peter Kater and R. Carlos Nakai's three-city tour featuring music from their popular new release, Ritual, kicks off in Encinitas on December 5, with stops in Los Angeles (December 6) and Santa Barbara (December 7). For more information and tickets, see brightstarevents.net.