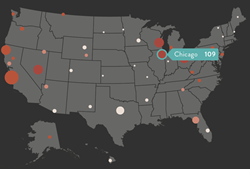 Our clients are now fully equipped with market level data for developing selling strategies that take advantage of all our core strengths. - Justin Massa, CEO
Chicago Il (PRWEB) November 10, 2014
Starting this month Food Genius' clients have access to enhanced features within the company's award winning restaurant analytics dashboard. Overall these updates create a better user experience for Food Genius' clients and provide users with deeper insights about the foodservice landscape.
The updates include a revamping of the user experience for many of the tools and features, and overall provide greater functionality, as well as the addition of metropolitan-statistical-area data, enhanced interoperability between Food Genius' suite of services, and deeper analysis of pricing data. "Our clients are now fully equipped with market level data for developing selling strategies that take advantage of all our core strength, being at the intersection of technology and food data. Clients who have been exposed to the new features are already expressing delight at the depth of insights as well as the enhanced functionalist, leading to time saved and greater understanding of complex data," says CEO, Justin Massa.
Addition of MSA Level Insights
Food Genius' clients will soon be able to filter all the way down to the MSA (metropolitan statistical area) level, allowing sales and marketing professionals in the foodservice industry to get deeper granularity previously unattainable, and ultimately develop more pointed and hyper-local insights for their targets. This inclusion separates Food Genius from its competitors who lack the necessary coverage, as well as further differentiating Food Genius as the only provider who has access to granular menu level data for operators outside of top-markets.
Interoperability
Previously, Food Genius' three premier services – Reports, Engage!, and Industry Reports - functioned as separate entities within a suite of service. After soliciting client feedback Food Genius discovered a better way. "Now users can expect a more holistic experience from Food Genius. Whenever clients perform a search in the dashboard, the system will automatically highlight related Engage!, and Industry Reports collateral that the user has access to" says Paolo Lorenzoni, VP of Product Development. This enhancement offers insights around the topic that already exist, which will save users time rather that having to recreate insights.
Pricing Analysis Update
Pricing of menu items is one of the most common requests Food Genius' fielded from clients. Based on client feedback collected from the past year, Food Genius' pricing module within the menu analytics dashboard has also been revamped. Now highlighting the two most common price points for each dish, as well as the average across all instances, professionals seeking greater transparency into menu item pricing are empowered with more insight into the nuance of menu item pricing.
About Food Genius
Food Genius™ is a leading technology and solutions provider delivering actionable insights for sales and marketing enablement to the worlds largest foodservice companies. Food Genius solutions and analysis is derived through our proprietary technology and data-based approach to the foodservice industry. Food Genius serves nationally recognized companies, including Arby's, Applebee's, Coca-Cola, Unilever, Kraft and US Foods.
Food Genius is a proud recipient of the "Up-and-Comer" Chicago Innovations Award and was named to Entrepreneur Magazine's list of 100 Brilliant Companies in 2013. Food Genius' innovative design and intuitive interface allows for a user-friendly data insights solution that generates granular data and insights, tracks trends, develops concepts and drives growth. To learn more, visit getfoodgenius.com.