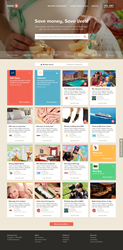 People are increasingly eager to find ways to weave generosity into their daily lives.
(PRWEB) November 19, 2014
Save1.com launched two years ago with significant buzz amongst online bloggers. The site, and it's social good model, was picked up by hundreds of bloggers who loved the "do good while doing life" model.
The site was heralded as a new archetype for the giveback model of the coupon business: a site that gives customers access to the Internet's deals and discounts, while providing a benefit to a population in need.
By partnering with non-profits such as Feeding America and Action Against Hunger, Save1.com has been able to create a business model that can track and give meals as deals are activated.
Now, only a few years later, Save1.com wants to inspire the coupon industry again. Save1.com has committed to tripling the amount of meals provided for every deal or discount activated from the site.
Josh Cearbaugh, the Save1.com CEO shared, "Our goal is to provide 1,000,000 meals by the end of 2015. When we thought about our goal, and after reviewing the last few years of data, we realized that creating a model that would give more meals would be the best way to achieve our goal."
In order to support the goal, Save1.com has personalized the giving experience for their users by launching "profiles." The profiles allow individuals to track the amount of meals they have donated through using deals from the site.
In addition, they have completely redesigned the website to create a unique online shopping experience. Save1.com's new design is reminiscent of many major social media platforms, but with a vibrant personality entirely its own.
For example, individuals can give more meals simply by sharing discounts or about save1.com, blogging about the site, or liking save1.com on social media sites.
Blair Reynolds, save1.com President, added, "people are increasingly eager to find ways to weave generosity into their daily lives. They want to partner with businesses authentically committed to making a difference in the world. These people share our heart and vision for next-generation businesses."
Save1.com's model is being launched in the midst of a firestorm of investment into the online coupon industry. Recent examples include ebates.com being bought for 1 billion dollars, and couponcabin.com, retailmenot.com, and coupons.com all receiving tens of millions of dollars in reinvestment.
Its too early to determine if Save1.com will meet their goal of 1,000,000 meals by the end of 2015, but one thing is for sure, they will challenge the status quo of the coupon industry by allowing an outlet for generosity while shopping.