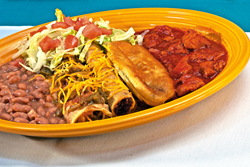 Enjoy El Pinto cuisine at 50% off during our Give Thanks for Locals Sale. Get the discount at elpinto.com/deals.
Albuquerque, NM (PRWEB) November 06, 2014
El Pinto Restaurant in Albuquerque is giving thanks to locals with an exclusive $30 worth of food or drink for only $15 during November. This exclusive offer is available for pre-purchase exclusively at http://www.elpinto.com/deals.
"We want to give thanks in November to our local customers who are the foundation of El Pinto," explains co-owner John Thomas. "For over fifty-two-years it is our local customers who dine at El Pinto and appreciate the extensive efforts we go through to provide the best chile, antibiotic and hormone free meat, organic produce, and most nutritious New Mexican cuisine possible."
Co-owner and twin brother Jim Thomas continues, "We have all endured the Paseo construction and my brother and I simply want to say thank you to our faithful local customers, give thanks the construction is nearing completion, and provide this discount to locals who love El Pinto."
John Thomas responds, "That is right, and as Thanksgiving is on the horizon, November is a great month to give thanks. El Pinto has a fifty-two-year-old tradition because of our local customers. Thank you!"
The $15 for $30 Deal is available for pre-purchase at http://www.elpinto.com/deals and is good for food and drinks at El Pinto Restaurant & Cantina. Simply make the purchase online and bring the printed voucher or show it on your smartphone to receive $30 of food and drink for $15.
El Pinto Restaurant and Salsa Co. continues to expand in its 52nd year with an emphasis on serving nutritious, locally raised, and organic foods. El Pinto Restaurant has grown from a few tables in one room started by John and Jim Thomas' parents, to become the most famous restaurant in New Mexico with beautiful patios, natural wood burning fireplaces, and healthy New Mexican cuisine. El Pinto Salsa has recently expanded with the addition of the convenient single serving cup which reduces product waste and increases consumer satisfaction. The restaurant and salsa manufacturing facility are co-located on property in the North Valley of Albuquerque, New Mexico.
About El Pinto Restaurant & Salsa Co:
Established 52-years ago, El Pinto is a quintessential icon for New Mexican cuisine. Conveniently located in the North Valley of Albuquerque just off I-25, the serene patios located under beautiful cottonwood trees provide an iconic experience. El Pinto is known nationally for its fire-roasted green chile and fresh flavorful salsa distributed across the nation in local grocery stores. The salsa and green chile factory is located on the same grounds as the restaurant. For an authentic taste of New Mexico, visit El Pinto for its fresh iconic food, traditional margaritas, and award winning chile. http://www.elpinto.com