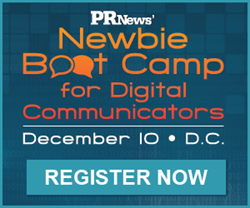 New York, NY (PRWEB) November 09, 2014
PR News has developed a hands-on daylong workshop for emerging public relations and communications professionals seeking a foundational grasp of the field's essential topics. The PR News Newbie Boot Camp for Digital Communicators, which will be held at the National Press Club in Washington, D.C., on December 10, 2014, has been programmed to be an educational and experiential springboard for career advancement for up-and-coming PR practitioners. Starting at 8 a.m. and ending at 3:30 p.m., this focused training will provide critical tools, strategies and insights that PR and marketing practitioners need to take their careers to the next level in today's communications environment. The early bird rate ends November 21, 2014.
View the interactive agenda for the boot camp here: http://www.mediarelationsconf.com/newbie-boot-camp/.
Boot camp trainers are senior-level professionals from organizations including AOL, Six Flags America, The Nature Conservancy, the National Institute of Science and Technology, the George Washington University and APCO Worldwide. Attendees will be trained in a variety of integral PR skills that can be put to use right now and in the years ahead – from strategic planning, SEO and media relations to social media and PR writing.
The Newbie Boot Camp for Digital Communicators will include lunch and networking opportunities. Attendees will also receive a certificate of completion as well as various guidelines and lists related to writing.
Thanks to our sponsors MediaMobz and George Washington University.
Presented by the industry's most trusted public relations and marketing brand, this boot camp will fill up quickly. To register, visit http://www.mediarelationsconf.com/newbie-boot-camp/. The early bird rate for the boot camp ends November 21, 2014. For questions regarding the boot camp, contact PR News' Laura Snitkovskiy at laura(at)accessintel(dot)com. To sponsor this event, contact PR News' SVP & Group Publisher, Diane Schwartz at dschwartz(at)accessintel(dot)com.
About PR News:
PR News is a daily intellectual hub that serves the communications and marketing community at corporations, agencies and nonprofits. The PR News Group focuses on honing and growing PR practitioners' skills in social media, crisis management, digital PR, measurement, employee relations, media training, CSR and writing through its flagship newsletter, webinars, conferences, awards programs, workshops and guidebooks. With the launch of its weekly newsletter over 70 years ago, PR News has remained dedicated to supporting the growth of communicators all while keeping them abreast of the latest news affecting the industry. For more information, please visit http://www.prnewsonline.com.