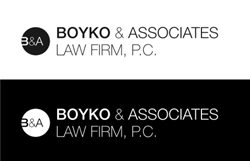 Brooklyn, NY (PRWEB) November 12, 2014
Boyko & Associates law firm is pleased to announce a successful launch of our new website! Now, our team is better equipped to help our clients and further excel in our law practice. We look forward to working with you on your case!
Boyko & Associates is a well-known personal injury and accident law firm in Brooklyn, NY. Boyko & Associates provides top-quality legal services, professional expertise, and an objective, individual approach. We have been working in this niche for many years, and know how to be unyielding advocates to our clients. At Boyko & Associates we know how to fight for success, and get the best possible result in your particular case. We are a team of hardened professionals who know and love what they do. We are passionate about helping our clients, treating them with care and attention. We are ready to walk the extra mile for each and every client. For years our staff has been perfecting their skills, and that is why, we are confident that we can help you in a wide range of cases from business, family and immigration issues to personal injury and no-fault incidents, and much more.
Boyko & Associates specializes in dealing with personal injury cases. We are proud of our personal injury lawyers who have been honing their skills for years and can now help any client with a wide range of problems. Whatever personal injury you have suffered from - personal injury, auto injury, work injury, slip and fall injury, etc. - our personal injury lawyer will fight to get the best possible compensation available under law.. We are fully equipped to get you the compensation you deserve.
Boyko & Associates has also been focusing on auto accident law for many years. Auto accidents often result in injuries, losses, and damages, and that is why, having an accident attorney is simply a must. Our attorneys can help you get complete compensation from your insurance company, recover additional funds from the party at fault, and much more. Our skilled professionals have a successful track record and have helped dozens of people who got into auto accidents, and we are sure that they can solve your problem, too.
Boyko & Associates is a diverse law firm with expertise in various areas of law. In addition to dealing with all kinds of personal and auto accident injuries, including work related injuries, slip and fall injuries, product related injuries, sidewalk injuries, premises liability injuries, and many more we practice immigration law, helping people fulfill their dream to live, work, and study in the United States. All our services are provided with the highest quality, care and attention to detail. Boyko & Associates is a place where people get help, where people are listened to.
Want to learn more about our services? Call us at 718-434-1700.
####