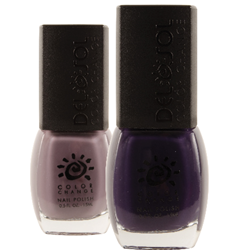 Salt Lake City, UT (PRWEB) November 07, 2014
Del Sol this week launched five new nail polish colors, along with new Del Sol-exclusive top and base coats, which are available exclusively at Del Sol stores and on DelSol.com.
Not only does this fall line round out Del Sol's nail polish collection to 30 color-changing polishes, but it also provides customers with more on-trend colors to mix and match with their current polishes. Del Sol will be introducing its winter polish collection (15 new colors) later this month.
Each polish incorporates Del Sol's proprietary Spectrachrome technology that causes the nail polish to change from one color without sunlight to a completely different color with sunlight.
"Customers have been anxious to get a custom Del Sol-made top and base coat that they can use with their favorite color-changing polishes," said Scott Brady, Del Sol VP of Communications. "Having these, along with these five new fall polishes, gives customers an opportunity to get the best mani-pedi under the sun."
New Top and Base Coats:

Specially formulated to work well and be compatible with Del Sol's UV color-changing polishes – ensures customers will get the most vibrant color change.
Helps polish stay on longer, dry faster and remove easier.
Part of Del Sol's global 'Buy 3, Get 1 Free' nail polish promotion.
Do not change color in the sun.
Five New Nail Polish Colors:
o Don't Be Jaded (changes from jade to eggplant)
o Better Slate Than Never (changes from dusky gray to burgundy)
o Tell Me No Lilacs (changes from deep lilac to eggplant)
o You Make Me Blush (changes from blush to plum)
o I Dream In Color (changes from purple rainbow glitter to amethyst glitter)
"To really experience the full magic, fun and benefits of Del Sol nail polish, you've got to see it change color right on your fingers and toes for yourself," said Scott Brady, Del Sol AVP of Communications. "Aside from it being a perfect choice for people looking to match different wardrobes or accommodate different social settings because of the two-color combo in each bottle, people love to pull off pranks using the Del Sol nail polish, too."
The sticker on top of each Del Sol nail polish bottle shows what color the polish will change to with sunlight. The sticker on the bottom of the bottle is in three languages – English, Spanish, and French.
"Polish fans can make the most of their manicure by painting their nails with all the essential ingredients that professionals use to get amazing results," said Brady. "Their nails get the longevity, color and shine that they deserve."
Del Sol guarantees the color change of its nail polish for life. If it stops changing color at any time, Del Sol will replace it under their Wow Guarantee, no questions asked.
Del Sol nail polish is made in the USA and does not contain Formaldehyde, Toluene, or Dibutyl Phthalate (DBP). That all basically means it's safe to use, but still not safe enough to drink. No animal testing either. Nail polish retail pricing is $10.00.
About Del Sol
Del Sol is an international retail brand selling clothing and accessories that change colors with sunlight out of its exclusive Del Sol retail stores. Del Sol first splashed onto the retail scene in 1994 out of a small cart in Murray, Utah's Fashion Place Mall and has been sticking its color-changing products where the sun shines ever since. Based on Del Sol's proprietary Spectrachrome® technology, formerly explored by NASA, its color-changing inks and dyes are engineered for application on more than 10,000 Del Sol retail items. Much like a flower that blooms in the sun's rays, the hidden colors found in Del Sol's exclusive prints and products twist and unfold into vibrant color upon exposure to sunlight, then returning to their original state without sunlight. Del Sol has grown to more than 100 store locations worldwide in 24 countries, is the world's leading brand of color-changing apparel and accessories, and one of the most highly promoted merchants onboard Royal Caribbean, Carnival, Princess, Disney, Celebrity, and Norwegian Cruise Lines.