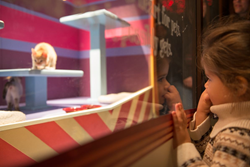 More than 8,000 cats and dogs have found loving homes through Holiday Windows. This event has become a tradition, and a true part of the San Francisco holiday spirit.
San Francisco, CA (PRWEB) November 06, 2014
The San Francisco SPCA is once again teaming up with Macy's for Holiday Windows, the annual event where adoptable cats and dogs are showcased in Macy's windows in Union Square. This year the Windows will be unveiled by Internet star Grumpy Cat, who will be available for photo opportunities! Join the unveiling celebration on Friday, November 21st, at 5 p.m. on the corner of Stockton and O'Farrell Streets. Before the windows are unveiled, children from the De Marillac Academy choir will perform classic holiday songs.
The 2013 Holiday Windows event was record breaking, both in terms of adoptions and donations. 343 animals found new homes, and more than $100,000 was raised to support the SF SPCA's year-round life saving programs and services. The SF SPCA is hoping to break both of those records again in 2014.
The Holiday Windows would not be possible without the help of volunteers. Last year more than 1,200 volunteers helped collect donations, greet the public, and spread holiday cheer. Volunteer shifts are only 2 - 2.5 hours and require no prior training. Groups are welcome as well, and children are invited to volunteer alongside their parents. For details or to sign up, visit sfspca.org/holiday-volunteer or call 415-554-3008.
"We're incredibly grateful to Macy's for their continued support and generosity," said Jason Walthall, SF SPCA Co-President. "More than 8,000 cats and dogs have found loving homes through Holiday Windows. This event has become a tradition, and a true part of the San Francisco holiday spirit."
"Macy's Union Square is proud to continue the tradition of the iconic SF SPCA Holiday Windows", said Rise Hixon, Macy's Union Square Visual Manager. "The windows have become a symbol of the holidays in San Francisco. They help us spread the generosity and spirit of the holiday season by finding loving homes for animals in need and bringing joy to the families that adopt them."
This year Macy's and the SF SPCA are partnering with Lifetime and Grumpy Cat to promote the network's holiday movie, Grumpy Cat's Worst Christmas Ever. With a special appearance by Grumpy Cat, the goal is to help all pets in need find their forever home so they will have an extra special holiday! At 6pm following the unveiling ceremony, attendees can meet Grumpy Cat in the store and have their picture taken with her. In the movie, Grumpy Cat (voiced by Aubrey Plaza) is a lonely cat awaiting adoption. Because she never gets chosen by a family, she develops a sour outlook on life…until one day during the holidays, a girl named Chyrstal sees her and falls in love with her after realizing she is the only person who can hear this unique cat talk. As the two develop a close friendship, Grumpy thwarts a kidnapping of a dog and, on Christmas Eve, rescues Chyrstal from the mall. Through her adventures, will Grumpy learn the true meaning of Christmas? Or will it be, in her words, the "Worst. Christmas. Ever?" Tune-in to the Lifetime Original Movie Grumpy Cat's Worst Christmas Ever on Saturday, November 29th, at 8:00pm ET/PT to see if Grumpy Cat's holiday adoption wish comes true.
Those looking to open their heart and home to an animal this holiday season are encouraged to visit the Windows between November 21st and January 4th.
If you can't make it to the windows, you can still watch the animals online! All of the windows are equipped with video cameras that stream to sfspca.org/holiday.
During the holidays, the SF SPCA will be waiving the adoption fees for all animals adopted at its permanent shelter locations in the Mission and Pacific Heights. For hours and locations, visit sfspca.org/contactvisit.
The San Francisco SPCA
The San Francisco SPCA is an independent, community-supported, non-profit animal welfare organization dedicated to saving, protecting and providing immediate care for cats and dogs who are homeless, ill or in need of an advocate. The SF SPCA also works long-term to educate the community, reduce the number of unwanted kittens and puppies through spaying and neutering, and improve the quality of life for animals and their human companions. The organization does not receive government funding and is not affiliated with any national organization.
Support the SF SPCA by adopting, donating, volunteering and becoming a client of our state-of-the-art veterinary hospitals. In addition to our campus in the Mission neighborhood, as a result of our recent merger with Pets Unlimited we now have a second campus in Pacific Heights.
The SF SPCA offers volunteer opportunities to care for shelter dogs and cats, conduct adoption counseling, assist clients and veterinary staff, provide foster care, help with the Community Cats Program, and enrich the lives of people in the community through animal-assisted therapy.
For more information about San Francisco pet adoption, call the San Francisco SPCA at (415) 522-3500 or visit sfspca.org.
About Macy's
Macy's, the largest retail brand of Macy's, Inc., delivers fashion and affordable luxury to customers at more than 800 locations in 45 states, the District of Columbia, Puerto Rico and Guam. Macy's stores and macys.com offer distinctive assortments including the most desired family of exclusive and fashion brands for him, her and home. Macy's is known for such epic events as Macy's 4th of July Fireworks® and the Macy's Thanksgiving Day Parade®, as well as spectacular fashion shows, culinary events, flower shows and celebrity appearances. Building on a 150-year tradition, Macy's helps strengthen communities by supporting local and national charities that make a difference in the lives of our customers.
About Lifetime
Lifetime is a premier female-focused entertainment destination dedicated to offering the highest quality original programming spanning scripted series, non-fiction series and movies. As a result of the network's aggressive programming strategy that has doubled the hours of its original programming, 2013 marked Lifetime's second straight year of growth among Total Viewers. Lifetime Television®, LMN®, Lifetime Real Women® and Lifetime Digital™ are part of Lifetime Entertainment Services, LLC, a subsidiary of A+E Networks. A+E Networks is a joint venture of the Disney-ABC Television Group and Hearst Corporation.