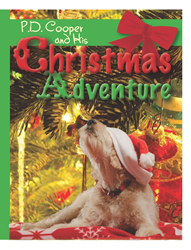 Poplar Bluff, MO (PRWEB) December 05, 2014
After his wife Darlene passed away in September of 2014, Ron Suter continued the publication of her second children's book, P.D. Cooper and His Christmas Adventure, to honor her memory. The book is now finished and available for sale at http://www.mirabooksmart.com/PD-Cooper-and-his-Christmas-Adventure_p_583.html.
Self-published author Darlene Suter released her first book, P.D. Cooper and His Rocky Mountain Adventures, in June of 2014. She was inspired as she watched her English Sheepdog in action in Colorado. He made Darlene laugh at his daily routine – running up and down the buttes behind their home, watching the animals that wandered onto "his" domain, how he accepted strange people and even those who were friends. It seemed he had a very protective yet charming approach to handling situations, ordinary and unusual. He provided her with so much material, she quickly began working on her second P.D. Cooper book.
Darlene Suter was retired and lived with her husband, Ron, on farmland near the community her grandparents established in the early 1900's. She was a former federal bank examiner who traveled across the country in the performance of those duties. Suter was a member of the local stage company and performed in various productions. In addition, Darlene was a motivational speaker, delivering presentations to local radio stations, businesses, and group meetings. She was a long-standing member of Toastmasters International, to which she attributed her passion for public speaking. In November of 2012, Darlene received the Distinguished Toastmaster Award, the highest achievement that a member can attain in communication and leadership.