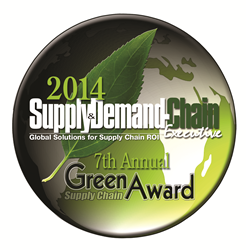 Chicago, IL (PRWEB) November 11, 2014
AFN®, an award-winning logistics and supply chain company, has once again received Supply & Demand Chain Executive's Green Award, based on AFN's leadership in making sustainability a core part of its strategy. The award recognizes providers of supply chain solutions and services who assist customers in achieving measurable sustainability goals and who attain similar results within their own operations in the areas of Sourcing/Procurement, Fulfillment/Logistics, Operations, Product Lifecycle Management, and other areas.
Supply & Demand Chain Executive received more than 100 entries for the 2014 Green Supply Chain Award. According to the judges, submissions were judged based on the clarity and content of the goals and strategy (30 percent), the extent of the steps being taken (30 percent), the impact of the results to date and projected results (30 percent), and the form and presentation of the information submitted (10 percent). AFN's work over the past three years with a private label coffee manufacturer was highlighted in the winning submission. In that example alone, AFN was able to significantly reduce total fuel consumption by nearly 42% over the last 36 months by using a state of the art consolidation engine to re-route the customer's traditional LTL-only shipments to a combination of intermodal shipments, pool consolidation while retaining some as LTL.
"To ensure an environmentally-friendly and sustainable supply chain, we may employ several strategies, depending on what's right for that particular shipper. Often, this means taking a comprehensive view of the complete transportation chain, from the manufacturing facility to the store shelf," said Ryan Daube, CEO and Founder of AFN. "We're proud of the green gains our highly skilled team has uncovered for customers and are pleased to be recognized for efforts that are environmentally-friendly and also improve the bottom line."
About Supply & Demand Chain Executive
Supply & Demand Chain Executive is the executive's user manual for successful supply and demand chain transformation, utilizing hard-hitting analysis, viewpoints and unbiased case studies to steer executives and supply management professionals through the complicated, yet critical, world of supply and demand chain enablement to gain competitive advantage. Visit them on the Web at http://www.SDCExec.com.
About AFN
Serving motor carriers, manufacturers and retailers since 2003, AFN (formerly known as Advantage Freight Network) is an award-winning leader in freight brokerage, third party logistics and transportation management services. We are known for our commitment to client service, our proactive approach to fighting cargo theft and our expertise in retail compliance. To learn more about AFN, visit http://www.loadafn.com or call 877-LOAD-AFN.