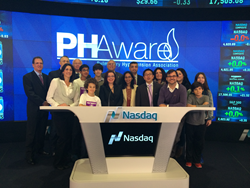 NY, NY (PRWEB) November 06, 2014
The Pulmonary Hypertension Association hit center stage today to air a new public service announcement (PSA) on the largest screen in the world, Times Square's NASDAQ Tower, shortly after the ringing of the opening bell. The PSA will help raise awareness for pulmonary hypertension (PH), a rare and debilitating disease of the lungs that affects the functioning of the heart and can lead to right heart failure. Without treatment, average survivability is only 2.8 years.
Bloomberg TV contributing editor and host of MYOB on C-Suite TV, Jeffrey Hayzlett, has made pulmonary hypertension his cause of choice. He joined Family Guy and Cartoon Network voiceover actor and PH patient Lucas Van Wormer and Broadway actor Zach Rand (Les Miserables, Mary Poppins) to raise awareness for the rare lung disease at the opening bell ceremony at NASDAQ this morning. Hayzlett will emcee PHA's Greater New York and Philadelphia Chapter's 2nd Annual O2 breathe Gala this evening at The Lighthouse at Pier 61 in New York City, beginning at 7:30 p.m.
In an effort to raise global pulmonary hypertension awareness, Van Wormer, who was diagnosed in 2006, is using his lungs and his voice to help educate the public about PH. Van Wormer teamed up with his dad Steve, member of the PHA Board of Trustees and an On-Air Promo Producer, on the production of a series of PSAs about PH. The PSAs have been delivered to 12,000 radio and TV stations throughout the U.S. and are currently being seen across the entire Fox Networks Group, Fox Hispanic Networks, CBS, Radio Disney, Hulu, Univision, Telemundo, ESPN, Pivot, The CW and Universal Sports Network.
"It's so cool to see the work my dad and I have been doing reach the biggest screen in the world," said Van Wormer. "I hope this brings a lot more attention to PH so we can find a cure."
Rand, who joined the cast of Broadway's Les Miserables nine months after his sister Chloe passed away from the disease in 2006, is passionate about participating in fundraising and raising awareness. "I'm working with the Pulmonary Hypertension Association alongside my siblings Liv, Ava and Elijah to honor Chloe each day," said Rand whose mom, Marie, is the Director of Community Engagement for PHA's Greater New York and Philadelphia Area Chapter. "Seeing the PSA playing in my home, Broadway's Times Square, will be the highlight of all the work we have done this year."
PHA's PSAs will also run for two-weeks in New York City taxicabs TVs. This unique exposure was the result of a friendship Rand formed with a fellow actor while on national tour. "I am incredibly grateful for the generosity of friends who join us in the fight to find a cure."
About Pulmonary Hypertension
Pulmonary hypertension (PH) is a rare, under-diagnosed and often misdiagnosed disease. It causes high blood pressure in the arteries of the lungs, resulting in an enlarged heart which can also lose its ability to pump. It can lead to right-heart failure. PH patients experience symptoms such as shortness of breath, dizziness and fatigue. While there's currently no cure, 12 FDA-approved therapies are available to help patients live better lives. Without treatment, average survivability is only 2.8 years.
About the Pulmonary Hypertension Association
Headquartered in Silver Spring, Md., the Pulmonary Hypertension Association is the country's leading pulmonary hypertension organization. Its mission is to find ways to prevent and cure pulmonary hypertension and provide hope for the community through support, education, research, advocacy and awareness. PHA does this by connecting and working together with the entire PH community of patients, families and medical professionals. PHA facilitates more than 245 support groups around the country and delivers continuing education for medical professionals through PHA Online University. To learn more about PHA, visit: http://www.PHAssociation.org or http://www.PHAware.org.