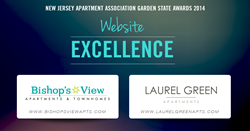 Two Garden State Awards of Excellence from New Jersey Apartment Association
DALLAS, TX (PRWEB) November 18, 2014
2014 is the year of the 21st annual Garden State Awards of Excellence for members of the New Jersey Apartment Association. Awards were presented in more than 40 categories which included individual and corporate recognition, management achievements, and industry designations through NJAA's professional development programs.
Bishop's View, BishopsViewApts.com, welcomes website guests with an intriguing video of the community and neighborhood. It also presents a full mobile version of the website. The website provides individual unit availability and pricing according to occupancy date, lease term, type, size and other defining features. A prospective renter can get a firm, printable quote and complete their application online. They can request contact and update information via text messaging.
The interactive site plan is entertaining and informative. When a user selects a favorite floor plan, the community site plan shows the exact locations of the apartments by building, floor level and unit number. The Neighborhood Map gives popular directions to major thoroughfares and places of interest in the immediate area. It is scalable and can be searched by topics such as restaurants, grocery, shopping, plus many others. Visitors can schedule a visit, view specials, study FAQs and instantly access social media. Residents can pay rent online and communicate with the management staff through a resident portal.
Bishop's View has impressive Internet search rankings with four first-page results from major key word searches for Cherry Hill, NJ.
LaurelGreenApts.com is a refreshing, inviting website that draws web visitors into a luxurious world of apartment living and glides them into action. The website is built with newly constructed apartments in mind within an upscale neighborhood in an ideal location.
The home page is easily navigated with unique form and imagery. The website is fully mobilized for smart phone and iPad/tablet for a custom user experience. A prospect can select a move-in date, a preferred floor plan, and view a list of available apartments. They can generate a customized quote that lists the unique attributes of that particular unit along with a colorful floor plan rendition. The prospect can then schedule a tour from the same page and submit an online application.
The amenity list is easily accessed; the photo page presents an impressive slide show of features and benefits. The Area Map allows website visitors to locate their favorite things within a short distance of the community: schools, shopping, entertainment, retail and other services.
The interactive site plan is a great facilitator. Prospects can click a favorite floor plan icon and see the building representation animate to indicate the location of an available unit. The Internet Coupon offers the prospect a new construction special and serves as a great call to action. A website guest can request a tour time online. It is very easy to fill out an online application and review qualification standards here as well. A convenient FAQ page is also provided to cover common questions.
Residents can request a service call, submit a survey, refer a friend, and set an appointment to conduct a renewal from the resident center. Laurel Green has outstanding search position rankings, resulting on page one for six key word searches for Mount Laurel, NJ.
About Spherexx.com® Advertising Agency | Software Development | Business Intelligence
Spherexx.com is recognized as an established leader for website, Internet marketing and software development services since 2000. With offices located in Tulsa, Dallas, and Houston, the company has been distinguished as one of INC5000's fastest growing companies. Spherexx.com is a recipient of International Summit Creative Awards for creative and communication excellence and Internet Advertising Competition (IAC) awards for best real estate website and for outstanding websites. Spherexx.com is also a Webby Honoree and has also received W3 Video awards from the Academy of Interactive and Visual Arts for B2B branded content and promotional branding. Multi-Housing News awarded two Spherexx.com products with Technology Choice Awards: ILoveLeasing for Lead Management and RentPush for Revenue Management for superior service and innovation.
Spherexx.com offers a wide selection of professional services including web design and development, touchscreen kiosks, Internet lead generation tools, online advertising, consulting, advanced mobile technology, apartment lease-up marketing consulting, and search engine performance. The company also provides branding services, video/multimedia production, print media, and copy writing, as well as website and email hosting, database solutions, pay per click, e-commerce solutions and custom programming.
The company has developed CRM (customer relationship management) products, marketing and lead generation tools that allow clients to better manage and convert leads to leases and sales and increase property values. These applications are branded under ApartmentWebsites.com™, Messagekast.com™ ILoveLeasing.com®, MarketSurveyTools.com™, RentPush.com® Revenue Management Asset Optimization and RentIntel™ Business Intelligence. Spherexx.com provides web-based prospecting, marketing, advertising management, and support services.
About Lincoln Property Company
Lincoln Property Company was founded in 1965 as a builder and operator of high-quality residential communities. Today Lincoln is the nation's second largest residential property management company, headquartered in Dallas, TX, with regional and satellite offices located throughout the United States. In addition to property management, Lincoln also focuses on real estate investment, construction and development. Their national reputation has enabled the company to attract a large client base of owners and investors who count on their ability to deliver quality results and continually serve as a market leader.
For more information about Lincoln Property Company, please visit http://www.lincolnapts.com/management-services or visit http://www.lincolnapts.com/regions/ for apartment listings in your area.