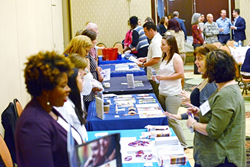 On behalf of the Fort Bragg Warrior Transition Battalion, I would like to thank the USO and all their local people who make events like this possible - Lt. Col. Roy Walker, Fort Bragg Warrior Transition Battalion Commander
Fayetteville, NC (PRWEB) November 06, 2014
Armed with resources, tips and some newly formed bonds, more than 80 military caregivers left the fall USO Caregivers Conference in Fayetteville, North Carolina with a refreshed view of their role as a caregiver. At the daylong conference, hosted by USO of North Carolina, military caregivers – which included spouses, family members, loved ones and hospital staff – were challenged to take time to take care of themselves, to find laughter in difficult situations and to utilize the support organizations and resources available to them.
A recent RAND study, commissioned by the Elizabeth Dole Foundation to assess the needs of military caregivers, estimated that there are some 5.5 million Americans caring for wounded, ill or injured troops and of that number, approximately 1.1 million of those caregivers are providing care for someone who served post 9/11, and 63 percent of post 9/11 caregivers are spouses. The study also reports that more than 50 percent of post 9/11 military caregivers have no network to support them.
"Whether they be family members, friends, colleagues or medical staff, those who care for our wounded service men and women play an absolutely essential role in the recovery and healing process," said USAF Brigadier General (Ret.) John I. Pray Jr., USO Executive Vice President and Chief of Staff. "Not surprisingly, we often find that these amazing men and women are so focused on taking care of others that they actually have to be reminded that they need to take care of themselves as well. That's why this conference is so important, it is an opportunity for caregivers to take a break, to recharge and to meet and bond with others who are experiencing similar situations. Focusing on this special group of people is an important part of our programming efforts."
As part of the USO's ongoing efforts to support healthy and active military families, the fall conference included two sessions led by physical fitness health expert and creator of the Official Johnson & Johnson 7 Minute Workout app, Chris Jordan. Jordan, who serves as the Director of Exercise Physiology at the Human Performance Institute, encouraged attendees to find time to focus on their physical and mental wellness and provided the group with quick and easy ways to eat better, get active, boost their energy and live healthier happier lives.
"This is about what matters most, give your best and full energy to those things," said Jordan as he asked the room of caregivers to make a pact to find opportunities to recognizes the things they are grateful for in life and to find opportunities to stay active. "Give your best and full energy to those things that matter most…be great stewards of your energy."
Additionally, motivational presentations were made by game on Nation LLC., a leading communications firm that works with some of today's top athletes on topics such as leadership, character development and moving towards positive change. game on Nation's Founder and President Steve Shenbaum spoke to caregivers about the importance of laughter and finding innovative ways to communicate. Continuing the theme of the day, building stronger more resilient military families, Stronger Families Executive Director Noel Meador counseled the group of spouses, loved ones and family members on ways to effectively communicate through challenging situations and to create healthy relationships with their recovering warriors.
USO of North Carolina President John Falkenbury thanked the North Carolina military community for continuing to support the men and women of our U.S. armed forces and expressed his gratitude to all of the caregiver support organizations who participated in the conference and promised to continue the USO's more than 70 years of service in the North Carolina military community.
"The USO is not the USO of 1941. It's not the USO of Vietnam," said Falkenbury. "This is an organization that has been and will continue to be the only organization that has been by the side of your military and your families, working with the wounded for 73 years."
Lt. Col. Roy Walker, commander of the Fort Bragg Warrior Transition Battalion, thanked caregivers for the role they play in the recovery of wounded warriors and cautioned them to take the time to care for themselves. He also thanked the USO for providing the much-needed retreat.
"On behalf of the Fort Bragg Warrior Transition Battalion, I would like to thank the USO and all their local people who make events like this possible," said Lt. Col. Walker. "And for the support they provide to our military members and our military families every day,"
Johnson & Johnson, who serve as the official healthcare partner of the USO, provided sponsorship for the conference and sponsor USO programs that offer direct aid, comfort and support to transitioning and wounded, ill and injured troops and their families. Johnson & Johnson is also proud to support the USO's Warrior and Family Center at Bethesda, which serves those who are treated at the Walter Reed National Medical Center.
To find out more about the USO Warrior and Family Care Program visit us online at http://www.uso.org. A complete list of 2014 Warrior and Family Care Programs and services can be found online at http://www.uso.org/warriorandfamilycare/. Click here to view photos from the event.
# # #
About the USO
The USO lifts the spirits of America's troops and their families millions of times each year at hundreds of places worldwide. We provide a touch of home through centers at airports and military bases in the U.S. and abroad, top quality entertainment and innovative programs and services. We also provide critical support to those who need us most, including forward-deployed troops, military families, wounded warriors, troops in transition and families of the fallen. The USO is a private, non-profit organization, not a government agency. Our programs and services are made possible by the American people, support of our corporate partners and the dedication of our volunteers and staff.
In addition to individual donors and corporate sponsors, the USO is supported by President's Circle Partners: American Airlines, AT&T, BNSF Railway, Clark Construction Group, LLC, The Coca-Cola Company, Grand Canyon University, JCPenney, Jeep, Johnson & Johnson, Kroger, Northrop Grumman Corporation and TriWest Healthcare Alliance and Worldwide Strategic Partners: BAE Systems, BIC, The Boeing Company, ConAgra Foods, FedEx, Lockheed Martin, Microsoft Corporation, Procter & Gamble, TKS Telepost Kabel-Service Kaiserslautern GmbH & Co. KG and Wawa Inc. We are also supported through the United Way and Combined Federal Campaign (CFC-11381). To join us in this important mission, and to learn more about the USO, please visit uso.org.