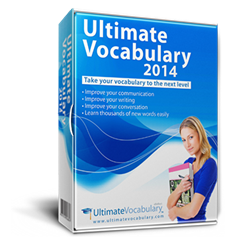 ...gender and culture might partially influence vocabulary knowledge, it is up to every individual to work on developing a broad and comprehensive vocabulary.
New York City, NY (PRWEB) November 07, 2014
eReflect, is the developer of Ultimate Vocabulary, a software that helps people increase vocabulary efficiency through games and activities. The company published an article discussing new research which shows that vocabulary use could be an indication of gender and other personal attributes. Citing a recent study by researchers at Ghent University, eReflect's editors assert that although people may not believe language reflects individual characteristics, the truth is that language does express various personal attributes, often unwittingly.
As eReflect's editors explain, the Ghent study looked into specialized vocabulary knowledge. Those taking the 4-minute vocabulary test online were expected to differentiate between proper English words and nonsense ones. In addition, the proper words presented to the test-takers related to particular specialized areas like gardening, arts and crafts, engineering, and technology. The study's findings revealed that after more than 500,000 survey responses, vocabulary appears to be gendered to a certain degree. Women were more likely to know words associated with conventionally feminine interests and hobbies like arts and gardening, where men were more likely to be familiar with tech jargon. Men were more likely to recognize "codec" and "humvee," for example. Women, on the other hand, had no trouble showing their vocabulary knowledge of words such as "peony," "tresses," and "decoupage," eReflect reports.
While people are often dismissive of pigeonholing individuals according to intrinsic characteristics like gender, age, and race, the study revealed that people are influenced by their gender as to what experiences and interests they pursue in life. The study didn't reveal any of the two genders having verbal advantage over the other, however. The study did confirm a long-held hypothesis that culture influences and informs language, eReflect explains. 93% of women were able to tell "taupe" was a real word (a dark grayish brown), as opposed to a mere 66% of men, for instance.
As a vocabulary software developer, eReflect asserts that although gender and culture might partially influence vocabulary knowledge, it is up to every individual to work on developing a broad and comprehensive vocabulary.
***********
For more information on how you can benefit from Ultimate Vocabulary, please visit its official website, http://www.ultimatevocabulary.com.
About Ultimate Vocabulary™
Ultimate Vocabulary provides a proven and powerful platform, built to improve anyone's vocabulary.
The interactive self-improvement system provides more learning tools than any other program on the market, as well as more information on words.
The Ultimate Vocabulary software provides each and every user with a personal computer tutor. Providing a step-by-step guide to learning a powerful vocabulary, Ultimate Vocabulary is the learning tool everyone can benefit from.
Of course, the software is also backed by eReflect's iron-clad money back guarantee.