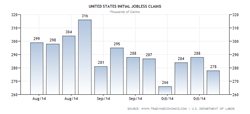 The last time continuing claims were this low was December 2000.
Chicago, IL (PRWEB) November 06, 2014
Lenders like Peoples Home Equity were not pleased on Wednesday, November 5th to see that weekly mortgage applications declined for the second consecutive week. However, in terms of labor market data this week, lenders see great potential for the future growth in home loans.
Yesterday, weekly mortgage applications were announced to have fallen -2.6% for the week ending on October 31st. This decline was disappointing since applications also fell two weeks ago by -6.6%. The decline was linked to rising mortgage rates. Three weeks ago when applications posted an 11.6% rise, 30 year mortgage rates were at multi month lows at 4.1%. Now rates have also increased for two consecutive weeks leading to an inverse decline in applications. While home sales decline after the summer, Peoples Home Equity expects home loan applications to remain strong through the fall and winter due to an ever strengthening American labor market.
From a labor perspective, there are many potential factors that lenders are impressed with. To start, the latest ADP Employment report showed that America added 230,000 jobs in October. The report was stronger than analysts expected at just 220,000, and the report was higher than the 225,000 jobs recorded for September. This October jobs number was the highest since June 2014.
Small business added 102,000 jobs, while medium size businesses at 122,000 and large business added 5,000. Lenders like Peoples Home Equity know how crucial small business growth is to the overall economy. The fact that small businesses are higher employees not only bodes confidence for the economy but enables individuals to apply for a home loan.
Today, the labor news was even more positive with the U.S. Department of Labor reporting a 14 year low in initial jobless claims at just 278,000 for the week ending on November 1st. The 10,000 claim decline from the week prior more than what analysts had expected. Thursday's report marks the 8th consecutive week where initial claims have remained under 300,000. CNBC.com highlighted today the 14 year low in claims by stating "The four-week moving average of claims, considered a better measure of labor market trends as it irons out week-to-week volatility, fell 2,250 to 279,000, the lowest reading since April 2000."
Continuing claims also declined by 39,000 to just 2.34 million for the week ending on October 25th. The last time continuing claims were this low was December 2000.
CNBC.com also highlighted the fact that compensation per hour is also increasing. Peoples Home Equity found this especially interesting since there has been many headlines regarding the need for wage hikes in America. Compensation per hour increased 2.3% in the third quarter, and is up 3.3% from a year earlier. Lenders are watching this statistic closely as they know the Federal Reserve is using it to judge when to raise their benchmark interest rates. As for now, Peoples Home Equity knows that both more jobs and higher wages will lead to a surge in mortgage applications in the future; it's just a matter of time.
Contact a Peoples Home Equity loan officer today at: 262-563-4026