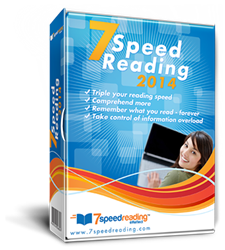 ...traveling lends itself to a lot of reading — speed reading or otherwise.
New York City, NY (PRWEB) November 09, 2014
eReflect is the developer of 7 Speed Reading™, a program that helps people improve their reading habits and reading speed. In its latest blog post, the company recommends 7 books on solo traveling for travelers who like to roam alone, or who have to travel a lot on their own for business. The best speed reading software teaches ways to efficiently use even short time periods to get the most out of reading, and its designers believe that any free time is the perfect excuse for reading. What's more, they say, traveling lends itself to a lot of reading — speed reading or otherwise.
One of the books recommended by the eReflect editors is "A Journey of One's Own" by Thalia Zepatos. This book for women who travel alone gives valuable advice on how to deal with travel woes and unexpected situations like sexual harassment.
Another book eReflect recommends for solo travelers is Nick Hunt's "Walking the Woods and the Water." This book is a celebration of traveling and soul-searching, the perfect read for anyone on a road or hiking trip, says eReflect.
"The Art of Solo Travel: A Girls' Guide" by Stephanie Lee is another meta book for solo travelers and is one that the designer of 7 Speed Reading™ recommends for women traveling alone. Filled with well-designed illustrations and useful tips and advice, this book is essential for any first-time solo traveler, eReflect comments.
Jack Keruac's "On the Road," Lea Lane's "Solo Travel: Tales and Tips for Great Trips," and "To the Island" by Meaghan Delahunt are three other top picks eReflect's editors recommend to anyone who finds themselves as a solo traveler. Both men and women can enjoy these books. The books can be speed read while commuting to work or can be the ideal companion for longer solo trips across the world. The real world is not the only one worth exploring, eReflect reminds readers, and the world of books can be an equally rich and versatile one.
Traveling is always a process that involves a certain amount of time in transit or in long waits or quiet evenings. Having a great page-turner along makes the trip even more interesting, the 7 Speed Reading™ designer concludes.
************
For more information about the benefits of using 7 Speed Reading, please visit the official website at http://www.7speedreading.com.
About 7 Speed Reading™
7 Speed Reading is the only modern speed reading software that uses the latest technology to produce superior results.
The software provides its users with a new way to master speed reading that guarantees three times the reading speed along with improved memory and comprehension.
The software is poised as the most comprehensive speed reading system anywhere. It contains seven learning strategies, fifteen software activities, video training, advanced tracking capabilities and many more exciting features.