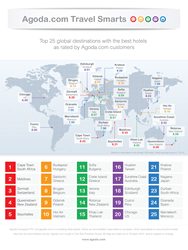 Agoda.com has released the results of its most recent study, revealing where customers can find the best hotels in the world.
Singapore (PRWEB) November 07, 2014
Agoda.com, one of Asia's leading hotel booking sites and part of Nasdaq-listed Priceline Group (Nasdaq:PCLN), announced today the results of its most recent Travel Smarts study which shows where to find the best hotels in the world.
The study looked at nearly seven million customer reviews on Agoda.com to see which destinations had the highest rated hotels. Overall, Cape Town, South Africa took the number one spot with the highest-rated hotels of any destination*, scoring an average of 8.43 out of a possible 10.
The Maldives, the ever popular honeymoon spot, came in second with an 8.33 average hotel review score. Zermatt, a skiing village in the Swiss Alps at the base of the Matterhorn, was number three at 8.29.
Though the Maldives and Zermatt are known for pricey, luxurious hotels, some of the destinations that made the top 25 list are very budget friendly. Some of the highest ranked hotels in Cape Town are inexpensive B&Bs and small boutique hotels. In Budapest hotels for less than $100 per night are the norm and Hoi An is filled with small B&Bs for far less; accommodations in both places consistently get very high review scores from agoda.com customers.
"People assume that you need to spend a lot of money to have an amazing vacation, but that is not true. There are fantastic places to stay at all price points and star ratings if you know where to look," said Errol Cooke, Vice President, Global Hotels.
What these destinations do seem to have in common is a beautiful physical landscape, lots of activities or attractions for tourists and a reputation for excellent service.
Agoda.com users can submit reviews for hotels after every stay. In addition to their written remarks, they score hotels on a scale of 0 to 10 in six categories. A hotel's total review score is an average of those numbers.
The top destinations by review category and their scores are
Value for Money - Budapest, Hungary (8.5). Location - Sunshine Coast, Australia (8.75). Staff Performance - Cape Town, South Africa (8.6). Hotel Condition/Cleanliness - Zermatt, Switzerland (8.79). Room Comfort/Standard - Cape Town, South Africa (8.54). Food/Dining - Bruges, Belgium (7.87).
To see an infographic with all the details, please visit http://mediaroom.agoda.com/wp-content/uploads/2014/11/Best-Hotels-Infographic.png
*This study looked at destinations with more than 100 hotels
For more information about the study, please contact Nico Marco, public relations leader, at nico(dot)marco(at)agoda(dot)com.