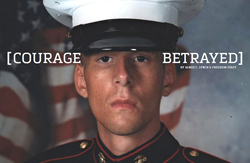 The use of psychotropic drugs, especially combined use of antipsychotic and antidepressant drugs, is strongly associated with an increased risk of SCD [Sudden Cardiac Death]
Los Angeles, CA (PRWEB) November 11, 2014
It's been more than a year since the VA reported that 22 veterans commit suicide each day—a far higher incidence than in the general population. Yet this epidemic continues unchecked. This Veterans Day, Freedom Magazine asks, "Are America's vets being drugged to death?"
The magazine reports on medical studies that document the suicide-risks posed by psychiatric drugs prescribed to an estimated 20 percent of American soldiers.
Freedom tells the story of Corporal Andrew White, who died in his sleep at 23, apparently from sudden cardiac arrest induced by the many psychotropic drugs he was prescribed.
Antidepressants, for example, bear the Food and Drug Administration's most severe "black box" warning label: "Antidepressants increased the risk compared to placebo of suicidal thinking and behavior (suicidality) in children, adolescents and young adults." Nearly half of America's active-duty military fall within that category.
A June 2010 report, the latest available on the subject, from the Defense Department's Pharmacoeconomic Center showed that 213,972, or 20 percent, of the 1.1 million active-duty troops surveyed, were taking some form of psychotropic drug.
The Freedom magazine piece also raises another troubling question – are all the reported deaths actually suicides?
California neurologist Fred Baughman believes that many of the reported veteran suicides may actually be drug-induced sudden cardiac arrests.
According to the European Heart Journal, "The use of psychotropic drugs, especially combined use of antipsychotic and antidepressant drugs, is strongly associated with an increased risk of SCD [Sudden Cardiac Death]."
In his Veterans Day message, President Obama calls for honoring "all those who've served to keep us free and strong." How better to honor them than to end the epidemic of veteran deaths by positively identifying, and addressing, the actual cause?
Freedom Magazine is committed to accurate and accountable reporting. Freedom is the voice of the Church of Scientology, and reflects its stance that responsible journalism and the free flow of information are the lifeblood of all great societies.
Published since 1968 and recently re-launched as a monthly print periodical, Freedom addresses issues, not politics. It seeks out and illuminates solutions to society's problems. Freedom proudly serves as a media watchdog, protecting the exchange of free ideas on which democracy relies. Freedom further spotlights the Church of Scientology's human rights, social betterment and volunteer works, thereby advancing its purpose of safeguarding and promoting the rights of all.
Full Freedom Mission Statement
For more information, press only: Karin Pouw, Church of Scientology International, +1 (323) 960-3500 media relations (at) churchofscientology (dot) net
Letters/Inquiries to the editor: Jennifer Johnson-Lankheim, Freedom Magazine, +1 (323) 960-3500, jennifer.johnson (at) freedommag (dot) org