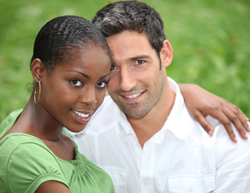 Los Angeles, CA (PRWEB) November 08, 2014
WhiteMenDatingBlackWomen.com, a well known dating website meant for helping white men date black women, has gained huge popularity in the recent past. If experts of the fields are to be believed, the major reasons behind the popularity include quality services, friendly approach and affordable fee. The website is specially intended to help black women looking for white men, and white men looking for black women find a dating partner as per their preferences.
When contacted, a spokesperson from the company said, "We are happy to be the most loved dating site among people around the world when it comes to black women seeking white men or white men looking for black women. We created this site with an aim to help people find their dream partner beyond racism. We understand the issues that can arise when it comes to dating a person with a different skin color. We are here to eliminate the boundaries and provide a platform for people to understand each other and find a partner according to their choice." He further added, "We have become one of the most reputed names in the dating industry, and aim to offer high quality services in times to come as well."
WhiteMenDatingBlackWomen.com has already helped thousands of men and women find their love partner. The site is also offering one month free gold membership to its members.
By offering distinctive interracial dating services for people, WhiteMenDatingBlackWomen.com is promoting love and care among youngsters around the world. The site is helping them understand that love is not measured by color. The site thoroughly checks the background of its members before confirming their membership. This is done to ensure that all profiles are genuine and members get a trustworthy service. Users can join the site free of cost.
About WhiteMenDatingBlackWomen.com
WhiteMenDatingBlackWomen.com is Canada based well known interracial dating website for black women and white men. The website helps people find their love match beyond colors, countries and ethnicity.