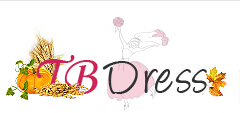 (PRWEB) November 07, 2014
TBdress.com, one of the most popular suppliers of wedding dresses and women's special occasion outfits, has recently announced its 2014 Thanksgiving sale online (http://www.tbdress.com/topic/ThanksgivingInTBdress/).
At the moment, all the company's elegant products are now available at deeply discounted rates. The company understands that the Thanksgiving Day is a very important and special festival. It wants to celebrate this special day with customers throughout the world. That is why it made the decision to launch the big promotion.
Now, all the global customers can visit TBdress.com to enjoy women's clothes sales on Thanksgiving. Every client can get the huge price cuts. The sale will last from November 1 to November 27. During the promotion time, all the company's products (like outwears, dresses, blazers, trench coats, pants and fashion accessories) are offered with very low rates.
"We are happy to launch the big sale and celebrate the great festival with worldwide customers. Our products are specially created for those who are in need of cost-effective items; they are great and vivid in style. I believe all the consumers will like them. Please pay attention that the current sake will be valid for just a limited time. Customers who are interested in our discounted items should visit our website as soon as possible," the company's sales representative says.
About TBdress.com
TBdress.com is one of the most popular suppliers of women's dresses (wedding dresses, evening dresses, and more). The company's passion is to provide customers with the best shopping experience so their special days are everything they dreamed. On its website, ladies can access a huge selection of beautiful dresses. It is working hard to offer more graceful products for new and old clients.
For more details about its items, readers can visit http://www.tbdress.com/topic/ThanksgivingInTBdress/.