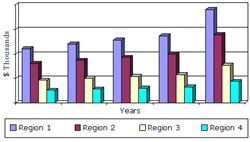 Global Market for Process Analytical Technology Instrumentation to Reach $450.6 Million by 2019
Wellesley, Mass., (PRWEB) November 07, 2014
BCC Research (http://www.bccresearch.com) reveals in its new report, PROCESS ANALYTICAL TECHNOLOGIES FOR PHARMACEUTICALS: GLOBAL MARKETS, the global market for process analytical technology (PAT) instrumentation is expected to be valued at around $450.6 million by 2019 at a compound annual growth rate (CAGR) of 6.7% for the period of 2014 to 2019. The market value of these solutions has the potential to grow with their increased utilization by the pharmaceutical industry.
PATs for pharmaceutical products focus on the improvement and modernization of pharmaceutical product manufacturing. PAT solutions offer products with optimum quality, which is set during each phase of pharmaceutical production. Although, the United States Food and Drug Administration (U.S. FDA) designed its PAT Initiative largely for pharmaceuticals, its scope is much wider and applies to the food, biotechnology, biopharmaceuticals and other process-based industries.
North America generated the highest revenues within the global market for PATs in 2013 with sales of nearly $128.5 million, and revenues are expected to increase from $137.2 million in 2014 to $190.3 million by 2019 at a CAGR of 6.8%. The European market is also expected to grow at a similar pace with a CAGR of 6.8% from 2014 to 2019, reaching about $139.1 million by 2019.
"The PAT initiative is well accepted in the European Union and Japan. Countries such as China, Saudi Arabia and Croatia are also contributing to the market with R&D on PAT solutions," says BCC Research analyst Shalini S. Dewan. "It has enormous growth potential within the large global pharmaceutical industry and is just a matter of time until PAT systems gradually become a significant part of pharmaceutical production and quality control."
Spectrophotometric tools and techniques remain the most utilized and preferred pharmaceutical PAT solutions for their uncomplicated and nondestructive abilities for particle characterization. Some of the other tools and techniques that are gradually becoming strong contenders for spectrophotometric tools are chromatography, particle size, capillary electrophoresis tools, automated analytical tools and techniques, dissolution methods and titrations tools.
PROCESS ANALYTICAL TECHNOLOGIES FOR PHARMACEUTICALS: GLOBAL MARKETS offers insight into PAT tools and techniques, their implementation, market activities and the benefits and challenges of implementation. It also details some of the reasons behind its growth potential, with an emphasis on the requirement of PAT solutions from the perspective of their overall business benefits. Revenue projections are provided for the years 2014 and 2019.
Editors and reporters who wish to speak with the analyst should contact Steven Cumming at steven.cumming(at)bccresearch(dot)com.
About BCC Research
BCC Research publishes market research reports that make organizations worldwide more profitable with intelligence that drives smart business decisions. These reports cover today's major industrial and technology sectors, including emerging markets. For more than 40 years we've helped customers identify new market opportunities with accurate and reliable data and insight, including market sizing, forecasting, industry overviews, and identification of significant trends and key competitors. We partner with analysts who are experts in specific areas of industry and technology, providing unbiased measurements and assessments of global markets. Our clients include the top companies in industries around the world as well as universities, business schools, start-ups, consulting firms and investment companies. Visit our website at http://www.bccresearch.com. Contact us: (+1) 781-489-7301 (U.S. Eastern Time), or E-mail: information(at)bccresearch(dot)com.
Data and analysis extracted from this press release must be accompanied by a statement identifying BCC Research LLC, 49-2 Walnut Park, Wellesley, MA 02481, Telephone: (+1) 781-489-7301; Email: editor(at)bccresearch(dot)com as the source and publisher. Thank you.