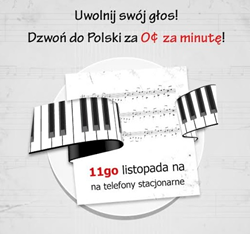 Rates very competitive. Service always reliable. Payment so easy: many options. CzescPolska.com customer
Atlanta, Georgia (PRWEB) November 10, 2014
On Independence Day, Polish people living abroad may call for free their families and friends back home in Poland and celebrate this special day. CzescPolska.com offers all customers complimentary calls to Poland because when away ceremonious gatherings and parades can be replaced by long international calls and heartfelt conversations. And when the calls are for free, the success is guaranteed. The offer is valid on November 11th, for all calls made to any landline in Poland.
Besides the Voice Credit service, CzescPolska.com offers its customers who call Poland on a regular basis an even more affordable product: its monthly plan. Poland 500 offers 500 minutes for $7.49/month, instead of $9.49/month like it used to cost. Poland 1000 is the second monthly plan and offers 1000 minutes for $14.99/month, instead of $18.99/month. This means customers can call their family and friends in Poland at only 1.5 ¢/min. The minutes offered by monthly plans may be used to call both landlines and mobiles.
Whether customers choose Poland 500 or Poland 1000, the plan renews automatically each 30 days and the minutes offered are added to customer accounts. In addition, plans can be canceled anytime, with no penalties and Upgrade/Downgrade options are always available in customer's account.
Both Voice Credit & monthly plans minutes can be used when calling from any phone or network:

From any landline, mobile or even payphone in the world, through local or toll free access numbers.
From any smartphone through the app called KeepCalling. The iOS and Android applications may be used to call without having to dial any access number or even any phone number at all. Once logged in, customers can use their phone Contacts to call.
From any computer with Internet connection through the Web Call application available in customers' online account.
In addition to Voice Credit and Monthly Plans, CzescPolska.com customers may recharge the mobile phones of family and friends from Poland via the Mobile Recharge service. The process takes less than 1 minute and the credit is sent instantly to the destination number. T Mobile, Plus, Tak Tak, Orange, Play, Heyah and wRodzinie top ups to Poland are available, with values varying from $7.61 to $76.14.
Customers may also access the Virtual Number service, a monthly subscription for the benefit of people back home. Thus, anyone calling the customers' Virtual Number will pay the regular rate of a local call.
Transactions on CzescPolska.com are 100% transparent. There are no hidden fees and the PIN balance never expires. Moreover, transaction information and call records are always available in the online account. A CzescPolska.com customer states: "Rates very competitive. Service always reliable. Payment is easy: many options" (CzescPolska.com customer).
About CzescPolska.com
CzescPolska.com is an interactive website designed by KeepCalling, a global telecommunications company registered in 2002 in USA. Presently, KeepCalling provides its services to hundreds of thousands of consumers and businesses, with a focus on customer satisfaction. In 2014, Inc. 5000 listed KeepCalling as the 18th fastest growing company in the telecommunications industry in USA.