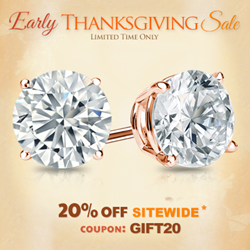 Los Angeles, California (PRWEB) November 07, 2014
Finding the perfect way to give thanks this Thanksgiving season from DiamondStuds.com has never been so effortless during these fun holiday months. DiamondStuds.com has taken the stress out of shopping for that one-of-a kind gift by offering customers a great deal on both GIA & EGL USA Certified diamond studs and all other stunning jewelry pieces for Thanksgiving. Upon checkout, just enter the code GIFT20 for 20% off the entire online collection. This exciting promotion will allow shoppers to take advantage of this special offer and receive a beautiful gift at an amazing discount. With a vast selection of earrings, diamond rings, and diamond pendants DiamondStuds.com is sure to help their customers find a unique gift.
What better way to show the ones you love how thankful you are by gifting them with a beautiful pair of diamond earrings or a diamond solitaire pendant or diamond solitaire ring. With the many holiday parties coming up, the best way to accessorize is with fabulous diamond jewelry that will be sure to add sparkle to any room. The promotion is great for buying a few gifts to give to the ones you love.
DiamondStuds.com early Thanksgiving discount will end on November, 20th 2014 so they highly encourage their customers make their purchases before this amazing offer expires Also check out the exclusive deal page which has amazing deals for the holidays.
About DiamondStuds.com:
Armed with a mission of lasting excellence and superior knowledge about diamonds, DiamondStuds.com focuses solely on diamond jewelry. The attention to details allows the company to offer their consumers the largest selection of fine diamond earrings, diamond solitaire pendants and diamond solitaire rings online. DiamondStuds.com also provides a huge array of customization options, enabling each individual to create an exquisite pair of studs, halo earrings, gemstone earrings, fashion earrings, diamond solitaire pendants or diamond solitaire rings unique to his or her personal preferences. To learn more about DiamondStuds.com, please browse the website at http://www.diamondstuds.com. Customers can call DiamondStuds.com at 1-855-WOW-STUDS (1-855-969-7883), to speak live with a diamond expert or send an email to info(at)diamondstuds(dot)com.