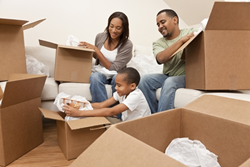 Unpack towels, toiletries, and bed sheets first.
Chicago, IL (PRWEB) November 07, 2014
The Federal Savings Bank knows it's always exciting to settle into a new home. Whether it's one of many apartments or a first home, the feeling of arranging the bookshelves and decorating a new space always feels like a fresh start. However, with any move comes a few tasks to say goodbye to the old place and welcome in the new.
Take these steps to ensure a smooth transition:
Clean the new place before moving day. One never knows what previous renters or homeowners have left behind. Schedule a day to go over to the new residence before moving day to vacuum, dust, clean up the kitchen, wash the windows and more, it's easiest to clean when nothing is in the way.
Stock up on moving day essentials. The day of the move can be busy so the day before the move, leave bottles of water in the refrigerator, a few snacks in a cupboard and toilet paper in the bathroom.
Set up utilities, cable and Internet. Many people contact utility and service providers before they move, but if they haven't yet, get online or give them a call right away. It's important one stops service at their previous location to begin it at the new one.
Have mail forwarded. One can do this online or go to their local post office. All one needs to do is fill out a simple form and any mail sent to an old residence with automatically be forwarded to the new place.
Unpack towels, toiletries and bed first. It may sound silly, but one can live without a lot things the first night in a new place. For instance, if plates are packed, order delivery. But after a long day, ones want to be able to take a shower and crawl into bed.
Change alarm codes. One never knows who the previous owners gave their garage door code or alarm system password to. Update these right away.
Update the driver's license. Most states require an updated driver's license within 30 days of moving to a new address. So don't forget to schedule a time to head to the DMV.
Register to vote. A new address means a new polling place so go online to update the voting address. One may be able to do this at the DMV when they change their driver's license.
Prospective first-time home buyers should contact Federal Savings Bank, a veteran owned bank, to learn about how their low rate mortgages can help give a fresh start to a new home.