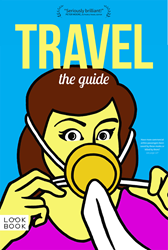 "Travel: The Guide is unlike anything you'll ever read. It's what The Daily Show would do if it covered tourism." – Larry Bleiberg, travel writer
(PRWEB) November 10, 2014
The superhighway of mass tourism has made it challenging to experience anything culturally authentic. There's a Starbucks or McDonald's on every corner, tour groups get herded from cruise ships to buses, and homogenized Western creature comforts have popped up everywhere. Authenticity has disappeared. Most people just aren't looking in the right places.

Guidebook authors and travel writers don't have super-human powers. Anyone can do it. Instead of following specific recommendations, travelers can use travel writers' insider techniques. If you want an local restaurant without tourists, don't look in a guidebook or travel magazine article; look at a new restaurant review in the local newspaper and use Google Translate to read it. Or ask to a local who doesn't get so many questions... as simple as asking the breakfast waiter at your hotel instead of the concierge, who is likely sending many tourists to the same spots.
• What you pack can determine if you meet locals. You may be inadvertently packing things that keep you at arm's length from meeting locals. Are you bringing headphones to tune the locals out or a guitar to share your music? Are you bringing a camera that takes pictures or a Polaroid that allows you to instantly print and share photos with locals?
Globalization cuts both ways. It makes the Hilton in Shanghai feel like the one in Denver. But it also allows you to easily host foreign travelers in your own home, get an authentic foreign meal close to home and see a musical performer or speaker on tour in your own home. Just as you can go to the other side of the planet and have a very western experience, you can also stay at home and have a very rich foreign travel experience.
+ The book also includes interviews with adventurous travelers with challenges (a blind traveler, deaf traveler, wheelchair traveler, overweight traveler, stoma traveler, even an Olympic pole vaulter (yes, traveling with a long bag of poles is a challenge). It looks at what unusual items various travelers pack and even provides perspective on refugee travel. It does all this with an entertaining and visual approach that was assisted by two former Editors-in-Chief of COLORS Magazine.