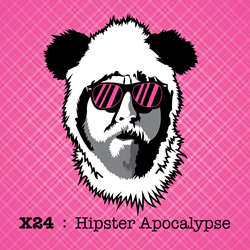 It's the hipster apocalypse!
Santa Fe, NM (PRWEB) November 07, 2014
Rapper X24, Christopher Webster, releases the music video for his debut single, Hipster Apocalypse, on November 7, 2014. The accompanying single was released October 30, 2014.
Hipster Apocalypse serves as a scathing social commentary of the cooler-than-you attitude and "need to be different just to fit in" paradigm of the hipster. This serious parody will leave you simultaneously ROTFL and shaking your head at the ridiculous hilarity of how far today's youth have fallen.
"In 2010, n+1 declared the hipster dead," points out X24. "If that's true, then the hipsters flooding contemporary advertisements and every Brooklyn sidewalk, must be un-dead. Flannel-clad Vikings and mod girls in chunky framed glasses? It's definitely the hipster apocalypse and they're coming for us!"
The video was created by D. Luke Fitch, a Santa Fe-based filmmaker who has won awards for his visual effects, editing, and aerial drone piloting. Fitch's company is Altitude FX.
Additional information on X24 and the new single, Hipster Apocalypse, can be found on his website x24music.com
The video can be found at https://www.youtube.com/watch?v=oRu1tmA58uA
For further information, please contact Christopher Webster at x24music(at)gmail(dot)com