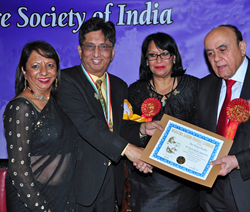 (PRWEB) November 10, 2014
The award recognizes those Indians who have made their mark overseas for outstanding achievements and for keeping the 'flag of India high'. Every year, the group selects 30 NRIs globally for this award. The award ceremony was held at House of Lords in London and was attended by accomplished NRIs from all over the world.
Shukla, is a successful Industrialist, a noted Gujarati writer and a public speaker is a CEO of S.S. White group of companies. S.S. White is a historical company, founded in 1844. Its products are displayed in the Smithsonian. Shukla started working at S.S. White in 1973 as a second shift inspector. Fifteen years later, he ended up buying the company. Today, S.S. White is considered a world leader in flexible shaft technology. Ninety eight percent of all the airplanes- commercial, private and fighter jets, use at least one flexible shaft product made by S.S. White. Their subsidiary, SHUKLA Medical is a world leader in the extraction tools for orthopedic implants. Its products are used in almost every orthopedic hospital in the USA. Its headquarter and main manufacturing plant is located in Piscataway, NJ. Its India plant in Surendranagar makes power seat parts for cars made in USA, Japan and Europe. S.S. White UK plant makes aerospace products for UK market.
Shukla is often called by news media as a 'businessman with heart'. At S.S. White they do not miss a single opportunity to mix hard work with fun. They celebrate 'Ugly Hawaiian Shirt day', St. Patrick's day, 'Take your kid to work day', 5K runs, Diwali, retirement lunches, safety-day, health day and a big Christmas party. They take all the workers bowling and to baseball games several times a year. The five best employees and their spouses are taken to an all-expenses paid trip to Caribbean. The company used to have a strong worker's union for decades but under Shukla's leadership, in 2006, the employees requested to decertify the union. This hardly ever happens in a company. Shukla has created similar culture of excitement, creativity and hard work at the plant in S.S. White in Surendranagar, Gujrat.
A computer techie, photographer, motivational speaker and a movie buff, Shukla married Meena Rawal in 1976. They live in Warren NJ.