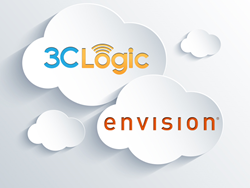 The partnership between our two companies brings together the best of breed in workforce optimization and call center software in the cloud.
Rockville, MD (PRWEB) November 12, 2014
3CLogic, delivering next generation inbound, outbound, and blended cloud contact center solutions, today announced a new partnership with Envision, a leader in contact center workforce optimization. The partnership will address the continuing focus on the customer experience movement driving today's business initiatives, as well as the need to derive actionable intelligence from customer interactions and data occurring within contact centers.
Together, 3CLogic and Envision will deliver significant benefits to enterprises in search of an advanced contact center solution with the added ability to collect, interpret, and act upon Voice of the Customer (VOC) data gathered during each customer interaction. Both large and small enterprises focused on the delivery of premier customer service and ongoing analysis of each customer interaction and agent performance will benefit from the partnership. Among the advantages:

A single integrated contact center and WFO solution
Voice of the Customer data and trend analysis
Improvements in operational efficiency with multi-dimensional agent analytics
Advanced performance monitoring and coaching tools
Enhanced customer experience and retention
"As the migration from on-premise to cloud contact centers grows, the need for an integrated cloud workforce optimization platform to provide a more complete picture of customer service and agent interactions becomes a more important factor in helping to make informed business decisions," states Raj Sharma, CEO at 3CLogic. "We are very excited about the synergies 3CLogic's leading contact center solution and Envision's WFO services will provide to both our mutual and future customers."
"The partnership between our two companies brings together the best of breed in workforce optimization and call center software in the cloud," said Envision founder and CEO Rodney Kuhn. "At a time where customers are tired of expensive hardware costs, upgrades and services, we can now deliver a fully-integrated software-only solution in the cloud."
About 3CLogic
3CLogic offers a complete suite of inbound, outbound, and blended cloud-based contact center solutions based on an innovative distributed approach (Virtual Telephony Application Grid or V-TAG) that eliminates the need for legacy server-centric architecture. Providing companies with a 360-degree view of all of their customer interactions, regardless of the channel chosen, 3CLogic's solutions allow for a timely and accurate means by which to offer first call resolutions. As a true cloud software solution, hosted on AWS, it offers seamless integration with other cloud-based solutions, including CRM and WFM, while providing market-leading security, scalability, and reliability. Finally, in addition to traditional contact center features (i.e. multichannel communication, IVR, ACD, predictive dialer, etc.), 3CLogic provides a powerful reporting framework with business analytics and real-time scripting engine. For more information, please visit http://www.3clogic.com.
About Envision
Since 1994, Envision has been providing solutions to optimize organizations by turning data from customer communications into action, which makes an intelligent impact on your business and leads to exceptional customer experiences. Data from phone, e-mail, chat and social media interactions can help quickly identify trends, optimize operations and transform customer relationships. Envision delivers innovative software solutions to optimize your workforce with our integrated, web-based solution, which includes voice of the customer analysis, performance management, desktop analytics, speech analytics, compliance recording, quality management, workforce management and coaching and eLearning. For more information, visit http://www.envisioninc.com.