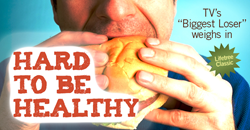 "When you are 325-pounds you know you are overweight, whether you admit it or not. Being overweight doesn't mean you are a bad person or unhappy, but I wasn't proud of myself or what I'd become." -- Jaron Tate
Loveland, Colorado (PRWEB) November 10, 2014
A former contestant on NBC TV's 'The Biggest Loser' will share tips and strategies for losing weight and becoming healthy at Lifetree Cafés around the country the week of November 16.
The program, titled "Hard to be Healthy: TV's 'Biggest Loser' Weighs In," features a filmed interview with Jaron Tate, who appeared on Season 3 of the hit television show. During the Lifetree program Tate will share his secrets for losing over 150 pounds and keeping the weight off.
Following college and getting married, Tate explains he became "sneaky fat", gaining 15-pounds per year until he finally realized a change needed to happen.
"When you are 325-pounds you know you are overweight, whether you admit it or not," says Tate. "Being overweight doesn't mean you are a bad person or unhappy, but I wasn't proud of myself or what I'd become."
Lifetree Café national director Craig Cable explained Tate's experiences with weight loss and hard work serves as a practical roadmap for people who want to make a positive change regarding their health.
"This Lifetree Café session is a great opportunity for people who want to lead a healthier lifestyle to receive encouragement, advice and even support," said Cable.
Lifetree Café is a national network of venues where people gather for conversation about life and faith in a casual coffeehouse-type setting.
Lifetree Café locations and times may be found at lifetreecafe.com.
Watch video preview: http://lifetreecafe.com/#/topics/111614.
###