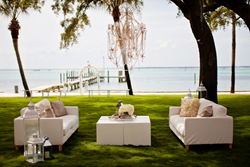 Destin, FL (PRWEB) November 09, 2014
The Bay House, situated directly on Choctawhatchee Bay, has emerged as one of the premier event locations on the Gulf Coast of Northwest Florida. This waterfront venue opened just three short years ago, but has made a name for itself quickly as an ideal location for weddings. A popular event destination amongst locals and tourists alike, the Bay House's unique combination of southern charm and personal service provide the perfect backdrop for rehearsal dinners, family celebrations and weddings in Destin.
"Over the years, I have been fortunate enough to work with some incredible brides during one of the most important times of their lives," said Erin Shoults, Destin Bay House Coordinator. "We have been blessed with three successful years, countless weddings and events, and couldn't be more excited to see what the future will bring."
Set in a renovated 1950's home, the Bay House has all the trademarks of iconic old Destin and the Florida coast with features such as old red brick, a screened front porch and wood floors. The event site offers over two thousand feet of space, an indoor dining area with bay views and an expansive, manicured green space making it ideal for large parties, family reunions or weddings for up to 200. The exquisite grounds, charming decor and scenic landscape also make this an ideal Destin event venue for capturing memories with loved ones, as seen here in the wedding video of Angelina and Robert, provided by Pure 7 Studios in Destin.
A second building, or "Bridal Cottage", rests apart from the Bay House and provides an excellent space for ceremony preparations for the bride and her bridesmaids. The cottage offers a salon room with ample mirrors, as well as a full kitchen and bath. Like the entire setting, this additional area offers numerous photo opportunities inside and out with fountain and deck.
The Bay House is close to all the resort beach communities along the coast of Northwest Florida, including downtown Destin, Crystal Beach, Sandestin and Fort Walton Beach. Partnering with Southern Vacation Rentals, the Bay House offers wonderful options for guest accommodations for the perfect destination wedding. In addition to being the ideal venue for Gulf Coast weddings, the Destin Bay House is a rare waterfront spot for reunions, corporate meetings, rehearsal dinners or any other special occasion that deserves a unique setting. For more information on hosting an event, visit DestinBayHouse.com.
# # #