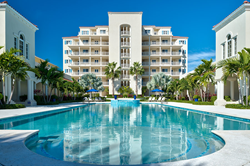 "We are so proud of this honor given to us by Conde Nast Traveler and want to celebrate it with our guests" Terria Misick, Resort Manager
Providenciales, Turks & Caicos Islands, BWI (PRWEB) November 08, 2014
The Venetian beat out over 7,000 other hotels in over 600 Caribbean locations to receive this award!
The Readers' Choice Awards are announced every fall, and the entire list will be available in the November 2014 issue of Conde Nast Traveler magazine.
The Venetian has won several other awards and currently holds the #2 spot on popular travel website TripAdvisor.
Those who wish for a touch of elegance and class gravitate to the Venetian, with its lovely and soothing white and blue decor, its panoramic ocean views, and its swaying palm trees. The Venetian is also unique in that it is located on the far side of award-winning Grace Bay Beach, and has its own stretch of beautiful ocean for and pristine beach for guests to walk on.
To celebrate this amazing news, The Venetian is offering special promotions until December 19th where every fourth nignightht and every seventh night are complimentary. Or 30% off travelling from December 14 to December 23rd. If travelling during the winter of 2015, guests at the award-winning boutique resort will also enjoy every fourth and seventh night free, if travelling between January 4th and February 4th.
From February 4th until April 15th, every seventh night is complimentary. Turks & Caicos and The Venetian on Grace Bay are a wonderful place to be for family spring breaks. All of these promotions are being offered for limited time only.
Those parties interested in finding out more about staying at this top-rated luxury resort are encouraged to contact:
Terria Misick, Resort Manager, at 649-941-3512 or contact terria(at)thethevenetiangracebay.com.