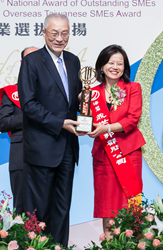 ROCKVILLE, MD (PRWEB) November 10, 2014
DSFederal, Inc. recently won both international and local awards recognizing the company's success and dedication to practicing corporate social responsibility: the 16th Annual Pyramid Outstanding Small Businesses Award from Taiwan and the Top 100 Minority Business Enterprise (MBE) Award in Baltimore.
Backed by the National Association of Small and Medium Enterprises (SME) of Taiwan and the Ministry of Economic Affairs, the Pyramid Award honors innovative and successful small businesses that stimulate the economy. DSFederal CEO Sophia Parker was honored at the Oct. 28 awards ceremony in Taipei, hosted by the Taiwan Ministry of Economic Affairs and the National Association of Small & Medium Enterprises.
More than 700 people attended the event, which commended 10 domestic Taiwanese small businesses and six overseas ones. DSFederal is among a group of 95 overseas businesses awarded annually since 1992.
Locally, DSFederal received the Top 100 Minority Business Enterprises (MBE) Award praising women and minority business owners who steer successful, socially responsible organizations throughout Maryland, Virginia, Pennsylvania, Delaware, and Washington, D.C. The company received its award at an Oct. 23 Baltimore ceremony hosted by the Mayor's Office of Minority and Women-Owned Business Development and other local organizations.
DSFederal excels at Training & Education, Grant Program Management, and IT & Mobile Services, with a focus on improving information management and flow throughout federal organizations. Its expanding customer base includes the Departments of Defense, Health and Human Services, Homeland Security, Transportation, and Agriculture.
Please visit our website at http://www.dsfederal.com for more information about our services, awards, customers, and projects, or send us an email at info(at)dsfederal(dot)com.