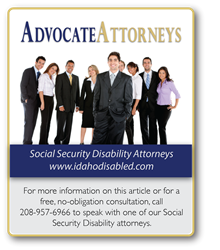 Disability lawyers are aided in their fight for Chronic Fatigue sufferers
Nampa, Idaho (PRWEB) November 19, 2014
Advocate Attorneys – Disability Lawyers, a highly successful Nampa Social Security Attorney firm with offices in Nampa and Boise Idaho, helps those with mental and physical disabilities qualify for Social Security Disability benefits. Their disability lawyers work with claimants in all stages of the disability application process. Because Advocate Attorneys specializes in Social Security Disability, their Nampa or Boise Social Security attorneys are experts in Social Security Disability law.
Claimants are not charged a fee unless they win their benefits. Claimants can receive a no-obligation consultation from a Nampa or Boise Social Security lawyer to determine if they are disabled. If they are disabled, a disability attorney works with claimant, their friends, family and medical providers to prepare their disability claim so that Social Security can clearly see they are disabled.
New Social Security Ruling Helps Claimants With Chronic Fatigue
As good Social Security disability lawyers know, there are some conditions that are more difficult to get disability benefits for than others. One of those conditions is Chronic Fatigue Syndrome or "CFS". CFS is a diagnosis of exclusion. It came about because patients were experiencing certain symptoms that doctors could not attribute to other conditions. This means there are not x-rays or MRIs that can show there is something wrong. For this reason, Social Security judges, and even many doctors, are very skeptical about CFS claims.
In 2014, Social Security released SSR 14-1p entitled "Evaluating Claims Involving Chronic Fatigue Syndrome". This is good news for disability claimants with Chronic Fatigue Syndrome because it provides some refinement to the standards judges and disability attorneys can use to show how a CFS claim fits into Social Security's set of medically determinable impairments. SSR 14-1p replaced SSR 99-2p, which was published in 1999.
Defining what conditions constitute a valid Chronic Fatigue claim is an enormous help to claimants suffering from this condition. SSR 14-1p sets out what symptoms and conditions Social Security is looking for in any claimant asserting disability due to Chronic Fatigue. SSR 14-1p states that Chronic Fatigue is a clinically evaluated, relapsing or persistent fatigue that:
1. Has a clearly defined onset
2. Can't be explained by any other condition or illness
3. Is not brought on by exertion
4. Rest does not make it better
5. Significantly reduces the ability to function and take care of daily activities
CDC Definition of Chronic Fatigue—To find CFS is a medically determinable impairment, Social Security adjudicators will want to see four or more elements from the CDC case definition of Chronic Fatigue. These conditions must have lasted 6 months or longer:
➢ After exertion, a patient has fatigue which lasts for 24 hours or more
➢ Sore Throat
➢ Tender lymph nodes
➢ Headaches
➢ Waking unrefreshed
➢ Muscle weakness
➢ Memory and concentration are impaired
➢ Sleeping difficulties
➢ Problems with eyesight
➢ Fatigue or dizziness after standing for long periods
➢ Muscle Pain
➢ Trouble with breathing
➢ Heart problems
➢ Stomach abnormalities
Co-Morbid Conditions—Social Security will also look for certain co-morbid conditions that people with CFS commonly suffer from, including:
➢ Migraines
➢ New allergies or sensitivities (cold all the time)
➢ Chronic Lymphocitic Thyroiditis
➢ Myofascial Pain Syndrome
➢ Temporomandibular Joint Syndrome
➢ Irritable Bowell Syndrome
➢ Interstitial Systitis
➢ Fibromyalgia
➢ Raynauds Phenomenon
➢ Sjogren's Syndrome
Medical Signs—Social Security will look for one or more of the following medical signs that last longer than 6 months:
➢ Swollen or tender lymph nodes on physical examination
➢ Sore throat (nonexudative)
➢ Tender Points
➢ Other, less persuasive, signs such as frequent viral infections, sinusitis, ataxia, extreme pallor, pronounced weight change
Laboratory Findings—Social Security will look for certain laboratory findings to help establish that a diagnosis of Chronic Fatigue is legitimate:
➢ Abnormal MRI of the brain
➢ An elevated antibody titer to Epstein-Barr virus capsid antigen equal to or greater than 1:5120, or early antigen equal to or greater than 1:640
➢ Abnormal exercise stress test
➢ Hypotention
➢ Abnormal sleep studies
Anyone suffering from Chronic Fatigue or any other a disabling condition can contact a Nampa or Boise Social Security attorney today for a no-obligation case evaluation and find out if they meet the criteria for Social Security Disability.
About Advocate Attorneys—Disability Lawyers
Advocate Attorneys—Disability Lawyers is a Boise and Nampa Social Security attorney firm providing legal counsel focusing on the Social Security Disability benefits application process. They are aggressive, experienced and compassionate. Disability is the sole specialty of the firm. Individuals can receive assistance through all stages of their disability claim from an expert Social Security disability attorney Nampa, Idaho. Claimants are also able to receive a no cost evaluation of their case from a Social Security Disability attorney to help them to determine if they should apply for their disability benefits.
Advocate Attorneys—Disability Lawyers
Mailing Address:
524 3rd Street South
Nampa, ID 83686
http://www.idahodisabled.com
208-466-2972