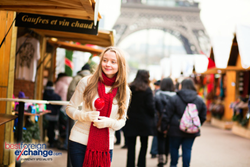 Outbound travellers from the UK will enjoy cheaper travel expenses due to the weakening Euro, compared to many foreign currencies
London, UK (PRWEB UK) 12 November 2014
Outbound travellers from the UK will enjoy cheaper travel expenses due to the weakening Euro, compared to many foreign currencies.
Financial Times on 6th Thursday reported, "The Euro has turned around from a day-long rally to fall to a two-year low after the European Central Bank sent a clear signal that it is prepared to undertake more stimulus."
"That is a Euro 44 extra bonus, which is good news for UK travellers shopping in Europe this Christmas," stated Senior Manager Trevor Samuel of BestForeignExchange.com.
It is estimated that over 3 million people will travel during this Christmas and New Year period. If they buy their travel money in advance, they will benefit from the weakening Euro and will receive more value when travelling to the continent.
BestForeignExchange.com, the online arm of Thomas Exchange Global Ltd, has found that a lot of its customers are seeing this benefit when they exchange British pounds into Euro. In addition to Euro, the currencies pegged to Euro such as Croatian Kuna, Czech Koruna, Romanian New Leu, Bulgarian Lev and Serbian Dinar, are expected to depreciate. However, these attractive exchange rates are not offered to customers in some instances, especially at airports and when using bank cards where charges are applicable.
"My advice is to buy currencies in advance avoiding poor rates at airports and reap the benefit of the upward trend in the market," concluded Samuel.
About Best Foreign Exchange.com
Owned and operated by Thomas Exchange Global, BestForeignExchange.com offers the most competitive exchange rates in London and customers that reserve currencies online will be assured the same exchange rate until close of business on the particular day despite any adverse fluctuations. They stock the widest range of foreign currencies in London with over 120 types of foreign bank notes. All foreign currency buy/sell transactions are free of any commission or charges.
Thomas Exchange Global also offers International Money Transfer Service where funds can be remitted to overseas bank accounts within 1 to 2 days. With commission free service for transfers over £10,000 backed by competitive exchange rates, customers are assured of a better deal and a substantial saving compared to banks and money brokers. Thomas Exchange Global branches are located at Strand, Victoria Street, Liverpool Street, Hammersmith, Cannon Street and Wormwood Street.