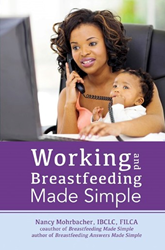 My top priority was to feature the key points employed mothers need to make breastfeeding work.
Amarillo, Texas (PRWEB) November 21, 2014
Statistics show that roughly two-thirds of American women work away from their children. With very clear messages coming from so many sources regarding the benefits of breastfeeding, many mothers are left unsupported when it comes to balancing work and breastfeeding and how to make the two compatible. Praeclarus Press is excited to offer a companion webinar to the recently published book, Working and Breastfeeding Made Simple by Nancy Mohrbacher, IBCLC, FILCA. With its evidence-based insights, Working and Breastfeeding Made Simple takes the mystery out of pumping and milk production.
Join us on December 3, 2014, 1-2 p.m. (EST) when Praeclarus Press presents a live webinar, Working and Breastfeeding Made Simple, with author and speaker Nancy Mohrbacher, IBCLC, FILCA. In this webinar attendees will learn: how to help calculate the average volume of milk an employed mother should expect her baby to consume based on age, hours apart, and sleep patterns; how to discuss the effects of breast storage capacity on an employed mother's need to express milk; and how to identify three aspects of an employed mother's daily routine that can significantly affect her milk production.
All who register for the webinar will also receive free shipping on Working and Breastfeeding Made Simple. Coupon code will be located in the electronic receipt sent via email after registration payment is processed.
Nancy Mohrbacher is a board-certified lactation consultant and author of breastfeeding books for parents and professionals. Nancy has been helping breastfeeding mothers since 1982. She has worked in private practice, for a major breast-pump company, and for a corporate lactation program. She has worked with women at various stages of motherhood, including pregnancy, maternity leave, and returning to work.
Praeclarus Press is a small press founded by Kathleen Kendall-Tackett, Ph.D., IBCLC, FAPA and specializes in women's health. It features books, webinars, and products that support women's health throughout their lifespan. Based in Amarillo, Texas, the mission of Praeclarus Press is to produce materials that change women's lives.