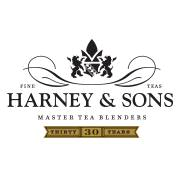 New York, New York (PRWEB) November 07, 2014
Harney & Sons Fine Teas, celebrating over 30 years and three generations of master tea blending, debuts their new "Celebration" tea blend to tea-drinkers around the world. Harney & Sons "Celebration" tea was blended with the magic of the holiday season in mind. Based on traditional English flavors, this blend boasts black tea, fruits and nut flavors. This limited edition holiday tea can be purchased on the company's eCommerce site (http://www.harney.com), as well as at their SoHo & Millerton Tea Shops.
Founder John Harney began his journey in 1983, mastering the art of tea blending, while starting production out of his basement. Today, Harney & Sons Tea remains family owned and managed, with three generations of Harneys traveling the world in search of the finest teas and innovative new blends. John Harney shares his thoughts with tea drinkers on the new blend: "Savor this limited edition tea anytime of the day or give it to someone you love."
Honoring the Harney & Sons tradition of blending fine tea while celebrating strong family ties, third generation master tea blender Emeric Harney will present the company's newest tea at an in-store event on Monday, November 17th from 5PM until 8PM. The festivities commence in conjunction with the fourth anniversary of Harney & Sons SoHo Tea Shop.
In addition to presenting their new holiday blend the Harney family has put together a line of unique holiday gifts that showcase their classic tea collections and other fine products to enhance the tea drinking experience. Shoppers may choose from a variety of gifts for both discerning and new tea drinkers. Harney & Sons combines the festive colors and scents of the seasons in their Fall & Holiday Gifts: reds and greens, cinnamon, vanilla, nutmeg, and citrus all blend to welcome in the holidays.
About Harney & Sons Fine Teas
Headquartered in Millerton, New York, Harney & Sons Fine Teas fills 90,000 square feet of warehouse space and employs over 160 people. The family company sources, blends, and packages their own product from start to finish. Their goal is to bring the exotic aromas and refined tastes from around the world to tea drinkers as an affordable luxury.