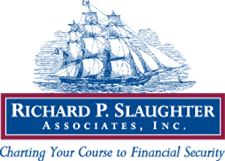 Austin, Texas (PRWEB) November 11, 2014
Widely recognized as a Central Texas leader in wealth management, Richard P. Slaughter Associates has once again been honored with multiple awards for its outstanding service.
In October, Slaughter Associates was recognized by Wealth & Finance International as "Wealth Manager of the Year (Texas)," and "Best for Wealth Strategies (USA)" as part of the 2014 Wealth and Money Management Awards. These awards recognize the achievements of those within the investment and financial services community — from asset managers, wealth managers, private bankers and financial planners to bankers, family offices, financial advisory firms and consultants. The awards pay homage to the leading professionals for going above and beyond in assisting their clients with managing their wealth, planning for their business's or family's future, and for providing sound advice in all areas of finance.
Additionally, Slaughter Associates was also honored independently by Wealth & Finance International Magazine with its Award for Innovation in Investor Psychology as part of the magazine's annual Finance Awards. These awards recognize and reward excellence, best practice and innovation in all aspects of the finance industry.
"Slaughter Associates was founded on the principle of providing excellent and personalized service to each client on an individual basis," said Brooks Slaughter, president and CEO. "We strive to build a personal relationship with each client in order to provide a comprehensive financial strategy for every stage of life."
Adding even more acclaim to its walls, members of the Slaughter Associates team were recognized by Five Star Professional in partnership with Texas Monthly magazine as Five Star Wealth Managers for the 6th consecutive year. To receive the Five Star recognition, candidates must satisfy 10 objective eligibility criteria in the wealth management arenas of business planning, estate planning, financial planning, insurance, investments, and taxation.
For 2014, Five Star honors were awarded to Slaughter Associates team members Darby Armont (MBA, CFP®, CFA), Brooks Slaughter (MBA, CFP®) and Bob Tabor (AWMA®, AIF®).
"We are honored to receive each of these awards as they serve as additional confirmation that we are doing our jobs well," added Slaughter.
About Richard P. Slaughter Associates, Inc.
Richard P. Slaughter Associates is a leading Austin-based wealth management firm. Slaughter Associates delivers a comprehensive financial approach to its clients by providing financial planning, asset management, ongoing education and a lifespan relationship for a personal and individualized service. This approach is unique in a financial industry that is often segmented and outsourced. By committing to each of these important components, Slaughter Associates charts a path to reach the individual financial goals of its clients.
Founded in 1991 in Austin, Texas by Richard P. Slaughter, Slaughter Associates is one of the original fee-based firms in the nation. In 2010, the firm launched a new division to support the business community with RPS Retirement Plan Advisors. Texas Monthly has recognized Slaughter Associates for its customer service as a FIVE STAR Wealth Manager for six consecutive years with individual honors for each member of the executive team. Slaughter Associates is a NABCAP Premier Advisor, recognized for its commitment to maintaining top business standards, first-class financial management capabilities and dedication to preserving transparency in the financial services industry. The firm is also a distinguished Best Places to Work, honored by the Austin Business Journal for ten consecutive years.