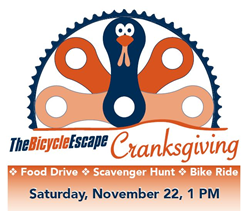 Frederick, Maryland (PRWEB) November 11, 2014
Cranksgiving is a scavenger hunt, food drive on two wheels. Participants will grab a couple of friends and join the fun, riding bicycles around Frederick, collecting food at various grocery stores while you filling in game sheets. All food and donations go to the Frederick Community Action Agency. It may sound easy but there is a catch... participants can only purchase so many items at each store and there is an alphabet challenge; strategizing is the key to win some of the cool prizes.
Riders will need $15-$20 each, a lock and a way to transport food while riding.
Please R.S.V.P. to 301.663.0007/E-mail: info(at)thebicycleescape(dot)com or visit our Facebook page: https://www.facebook.com/events/1570859729801762/