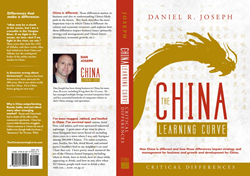 I wanted to focus on issues that are often overlooked, specifically China's culture and economic structure, and how they are different from countries like the US. - Daniel Joseph
Pittsburgh, PA (PRWEB) November 10, 2014
Why do so many foreign companies struggle in China? Is China re-inventing capitalism? Is China competing unfairly? Is America wrong about Democracy when it comes to China? Are we in the midst of the "Chinese Century?" "What can we learn from China?"
Author and foreign business strategist Daniel R. Joseph explores these questions and others in his new book, The China Learning Curve: Critical Differences available through Amazon beginning November 3, 2014. The book examines the most important ways in which China is different from developed countries and how those differences impact how business is done in China and how China is likely to grow and develop.
The China Learning Curve follows Mr. Joseph's internationally acclaimed first book, Wen and the Art of Doing Business in China, heralded by China Business Review as "mandatory reading for foreigners sent to work in China and those who dispatch them there."
"It's more than just a business book," said Daniel Joseph. "I wanted to focus on issues that are often overlooked, specifically China's culture and economic structure, and how they are different from countries like the US. These factors impact business in a significant way, so it is natural to explain how foreign companies need to adapt to China's differences. But culture and economic structure also have a huge impact on things like economic growth and the development of democracy, so I address these topics as well."
All readers will enjoy Mr. Joseph's approach to his topic. "I've been mugged, robbed and hustled in China. I've survived sand storms, hotel fires, and state-sponsored espionage. I've eaten scorpions, ants, live fish, dried blood and animal parts I wouldn't feed to my neighbor's cat." This excerpt from the book's introduction hints at a unique aspect of the book. Although it deals with high-level concepts, The China Learning Curve: Critical Differences also incorporates a large number of firsthand experiences and examples that serve to make concepts more tangible and relatable and to make the book more engaging and entertaining for readers.
Mr. Joseph is able to write from this perspective because of roughly 12 years he spent living and working in China, much of it in more remote areas like Datong, Xuzhou, and Changzhou, overseeing business operations for U.S. companies including Westinghouse, Kennametal, and Axcess Manufacturing. Mr. Joseph has consulted for more than 200 foreign companies with business operations in China and most recently served as China Advisor for the International Advisory Group at PNC Financial Services Group, the 6th largest bank in the United States.
In addition to consulting, Mr. Joseph is a dynamic speaker and has presented at over 30 seminars and lectures on China. Daniel Joseph has earned degrees in International Economics and Finance at Georgetown University and in Mechanical Engineering at Carnegie Mellon University.