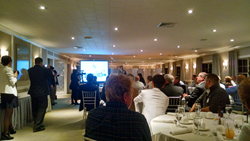 In tough economic times, this project will bring an influx of many jobs to Sullivan County
Thompson, NY (PRWEB) November 09, 2014
On October 22, 2014, the Thomson Education Center held the Contractors and Sub-Contractors Project Information & Job Opportunity Event at Bernie's Holiday Restaurant. The project professionals that co-hosted include: Pietrzak & Pfau Engineering & Surveying, STV Group, Shepstone Management Company, Dan Ionescu Architects, Emeritus International Group, and Proyect & Hart Attorneys at Law. In addition to these companies there were also keynote speakers from the following government agencies: Sullivan County Partnership for Economic Development, Sullivan County Catskills Visitors Association, and Sullivan County Chamber of Commerce. There were also individual keynote speakers which include two Detective Sergeants of the Sullivan County Police Department and the Supervisory Economic Specialist of the SBA. These speakers all came for the same reason, to show support for the project because it has the potential to spur economic growth, job creation, and to increase the amount of visitors to the region.
The event was well attended and highly successful in bringing together many of the contractors and businesses that will have the opportunity to work on the project or can benefit from its commencement. The participants included general contractors and sub-contractors that encompass the crew required to complete such an endeavor. These professionals include but are not limited to road workers and excavators, well drilling specialists, wood processors and millers, waste and sewer treatment professionals, plumbers, masons and concrete workers, residential and commercial house builders, gas and oil infrastructure professionals, HVAC professionals, and suppliers for materials. This wide array of professionals exhibits the breadth of this project and the large array of local workers and business owners that can benefit from the labor and materials required to complete it.
In tough economic times, this project will bring an influx of many jobs to Sullivan County. Initially and throughout the project, many construction and real estate workers will be employed. Once the project is complete, there will be many job openings at the Thompson Education Center including but not limited to professors, instructors, school book store and shop keepers, chefs, landscapers, cleaning, and maintenance workers. Aside from the jobs directly created from the project and the day-to-day operations on-location, there will be a ripple effect throughout the community. These new workers and resources required to run the Thompson Education Center will increase demand greatly for local goods and services, benefiting the local community.