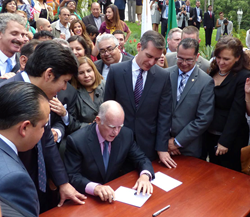 "We were there when the AB60 Bill was signed and now we are here to help all the community to obtain their licenses" Adriana Gallardo, CEO of Adriana's Insurance, said.
Los Angeles, CA (PRWEB) November 10, 2014
In California there are approximately 2.9 million undocumented immigrants as reported by the U.S Immigration website in their the last census. Approximately 1.4 million could benefit from Law AB60 and obtain a valid Driver's License. Thousands of them have been loyal customers of Adriana's Insurance; a company that has offered their services to clients regardless of their legal status. After an applicant's eligibility is verified by the DMV, the person must pass both written and driving tests.
Important fact: when this Law was implemented in the State of Nevada, 90% of Hispanics failed the written test as stated in Ann Marie Somma's article for newstimes.com; therefore, it is very important that applicants are prepared.
Adriana's Insurance, the largest Hispanic insurance brokerage in California, has created a series of study workshops to help the community obtain their Driver's License. The objective is to give back to the community, but more importantly to increase the percentage of Hispanics who pass the writing test. To ensure a great outcome, the workshops will be in Spanish and free of charge. The workshops are divided into two sessions. Therefore, it is necessary to attend both sessions to complete the workshop program.
Study workshops include contents of the Driver's Handbook, and general traffic rules. It is a very dynamic course designed to help applicants pass the test. Courses are scheduled in different areas to cover Southern California: Los Angeles, Orange County, San Fernando Valley, Inland Empire, Oxnard and San Diego.
The workshops are focused on answering any questions about the Driver's Handbook. Participants will have access to practice tests and traffic sign charts. So far, Adriana's Insurance has scheduled workshops through March 2015. However, due to the excellent response and high demand, they will be adding new dates and extending the study groups.
About Adriana's Insurance
Adriana's Insurance, the largest Hispanic insurance brokerage with over 20 years of experience in Southern California, has been helping families and businesses find insurance policies they need at the lowest rates possible. With more than 50 locations Adriana's Insurance is the fastest growing insurance agency in all of California, and we are eager to meet all of your insurance needs. Whether you are looking for California home owners insurance, auto insurance, RV insurance, motorcycle insurance or business insurance, we can tailor an insurance plan to fit your needs.