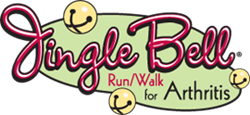 'We are thrilled to be supporting the Arthritis Foundation's Jingle Bell Race this year. We look forward to having some festive fun with the members of our community in the name of a good cause.' - Mark Watson
Greensboro, NC (PRWEB) November 11, 2014
BreakThrough Physical Therapy (BTPT) is proud to be sponsoring the Arthritis Foundation's upcoming Jingle Bell Run/Walk for Arthritis on Saturday, November 22, 2014 in Jamestown, NC.
As a "Friend of the Arthritis Foundation" sponsor, BTPT will staff a runner's station where they will provide hydration and support to participants. Additionally, BTPT's physios will be present at the finish line to answer post-race musculoskeletal or training questions and for screening and stretching as needed.
"We are thrilled to be supporting the Arthritis Foundation's Jingle Bell Run/Walk this year," said Mark Watson, COO, Clinic Manager of Greensboro's North Church Street clinic. "We look forward to having some festive fun with the members of our community in the name of a good cause."
The event will take place at Jamestown's City Lake Park at 9:00 AM. Registration for the 5K can be completed online before November 14 for $25 or in-person the morning of the race between 8:00 – 9:00 AM for $30. There will also be a Fun Run open to participants of all ages and a Reindeer Dash for children 10 and under. For additional details and a complete schedule of events, visit the Jingle Bell Run's website.
To book a pre-race appointment with an expert BTPT physio to discuss your fitness needs, please call 336.274.7480. For more information about BreakThrough Physical Therapy, please visit http://www.BreakThroughPTclinics.com.