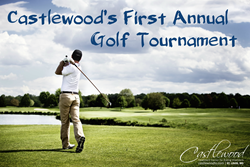 With the community's contributions we have increased the opportunity to transform the lives of those suffering from an eating disorder to one of healing.
St. Louis, Missouri (PRWEB) November 10, 2014
Castlewood Treatment Center announced today that its inaugural charity golf tournament held this month raised more than $30,000 for Project HEAL, a not-for-profit organization that provides grants for people with eating disorders who cannot afford treatment. In addition, Castlewood created a matching challenge fund and is doubling the amount raised by underwriting care for clients. These funds will be used for scholarships for Castlewood clients or to help families travel to Castlewood in order to participate in their loved one's treatment process.
"We are grateful to all the participants, sponsors, donors and volunteers who helped make our first charity golf tournament a success with a huge impact on scholarship availability for Project HEAL," said Nancy Albus, Castlewood CEO. "With the community's contributions we have increased the opportunity to transform the lives of those suffering from an eating disorder to one of healing."
Eating disorders affect more than 30 million men and women in the United States and have the highest mortality rate of any mental illness. Yet, only one in 10 people with these disorders receives treatment for their eating disorder.
"It is imperative we do everything we can to increase a person's access to treatment for their eating disorder, regardless of financial means," said Albus. "Castlewood is committed to saving lives and our compassionate staff works with individuals to help them find affordable treatment options. With support from an organization like Project HEAL, individuals and families who cannot afford treatment can receive the life-saving help they need."
Project HEAL was created in 2008 by two teenage girls in recovery from their eating disorders who saw the importance of helping those with little resources get the treatment they need. Since the organization's founding, Project HEAL has raised over $300,000 to provide full treatment for many grant recipients and also raises community awareness about eating disorders by providing speakers at schools.
Castlewood's inaugural golf tournament took place on Monday, Oct. 6, 2014, at Fox Run Golf Club in Eureka, Mo. More than 80 golfers took to the green for 18 holes of golf and a reception and award dinner. The tournament also featured a silent auction with "recovery artwork" created by Castlewood alumni and current Castlewood clients. The artwork, presented in a variety of media, represented the journey of healing and recovery.
About Castlewood
Castlewood Treatment Center helps people with eating disorders transform to healthier lives. Established in 2000 as the first residential treatment facility in Missouri, Castlewood's licensed health care team is nationally recognized and has decades of combined experience in providing compassionate, professional and successful treatment for more than 1,000 men and women with eating disorders and related conditions. They offer individualized, supportive and comprehensive care in a home-like residential setting to help people towards recovery and a bright, healthy future. Castlewood facilities are located in St. Louis, Missouri; Monterey, California; and Birmingham, Alabama and are accredited by the Commission on Accreditation of Rehabilitation Facilities and The Joint Commission. For more information, visit castlewoodtc.com.