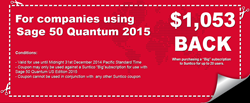 (PRWEB) November 21, 2014
Companies that upgrade to Sage 50 Quantum 2015 this year can enjoy $1,053 back if they take out a "Big" Suntico subscription before the end of the year.
Suntico provides valuable time savings for busy business-to-business companies that use Sage 50 through improved collaboration and information sharing.
"Many companies that use Sage 50 Quantum do a lot of repeat business with the same customers. In this environment, you can have multiple concurrent touch points with a customer and it is really important to keep your whole team on the same page," says Hugh Johnson, SVP of Business Development at Suntico. "In our most recent version of Suntico, you can extend your team to include any external sales reps that you have."
For full details of this offer go to http://suntico.com/sage-quantum-update/
About Suntico:
Suntico is an online account management solution, providing a real alternative to a traditional CRM for companies using Sage 50 software. It provides business managers and sales representatives with instant access to relevant business records, notes, discussions and tasks from any web-enabled device.
It is currently available for Sage 50 Accounting US (formerly Peachtree), Sage 50 Accounting Canada (formerly Simply Accounting) and Sage 50 Accounts in the UK and Ireland.
See the Suntico website for more details.