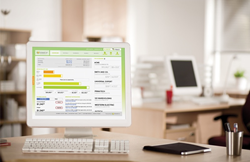 We rely on MineralTree to streamline our invoice and payments processing. Intacct for accounting and MineralTree for payments is a strong combination.
CAMBRIDGE, MA and ORLANDO, FL (PRWEB) November 10, 2014
MineralTree, the leader in AP and payment automation, announced its sponsorship of the Intacct Advantage 2014 exposition on November 11 - 12. "We're proud to be part of this key event, which extends the close partnership between MineralTree and Intacct," says BC Krishna, MineralTree CEO. In early 2014, MineralTree, an Intacct Marketplace partner, launched a fully integrated, sophisticated, and secure AP and payments solution for users of the Intacct accounting application.
Attendees of the Intacct Advantage conference can visit MineralTree at Kiosk #5 on the expo floor. For those not attending, MineralTree for Intacct is now also available online from the Intacct Marketplace.
Businesses that automate their AP and payments with MineralTree experience:

Increased efficiency and streamlined operations
70% reduction in end-to-end payment processing costs
Control and tighter management of outgoing cash flow
Reduced security and fraud risk via use of advanced payment security features
Improved internal controls with segregation of duties and dual approvals
Ease of mind with annual $100,000 fraud protection guarantee
Among the many businesses that rely on MineralTree is Shopkick, the Silicon Valley company whose shopping app offers customers rewards for walking into stores. "We rely on MineralTree to streamline our invoice and payments processing," says Priti Ramani, Director of Finance at Shopkick, which adopted the MineralTree/Intacct solution when its expanding business outgrew QuickBooks. "Intacct for accounting and MineralTree for payments is a strong combination," says Ramani, "one that helps us get rid of inefficient manual processes, and improving our payment controls."
About MineralTree
MineralTree AP and Payment Automation (http://www.mineraltree.com) is the only end-to-end solution that automates all phases of invoice and payment processing. It includes bi-directional integration with a variety of ERP systems, while processing check and electronic payments directly with the banks. Businesses using MineralTree experience the benefits of increased AP efficiency, lower processing costs, greater control over outgoing cash flow, reduced payment risk, and improved internal accounting controls.
About Intacct
Intacct is the cloud financial management company. Bringing cloud computing to finance and accounting, Intacct's award-winning applications are the preferred financial applications for AICPA business solutions. Intacct applications are used by more than 5,000 organizations from startups to public companies and are designed to improve company performance and make finance more productive. Hundreds of leading CPA firms and Value Added Resellers offer Intacct to their clients. The Intacct system includes accounting, contract management, revenue management, project and fund accounting, inventory management, purchasing, vendor management, financial consolidation and financial reporting applications, all delivered over the Internet via cloud computing.
Contact Information:
MineralTree
Michele J Martin
Marketing Manager
Michele.martin(at)mineraltree(dot)com
http://www.mineraltree.com
617.299.3399.